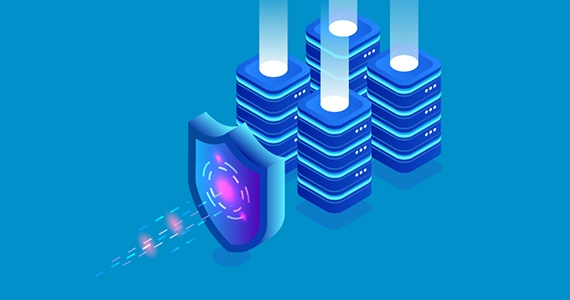 According to a recent Red Hat survey of 950 IT leaders, 95% of the respondents stated that open source solutions are important to them. So, it's no surprise that many organizations have adopted Red Hat Virtualization (RHV, also known as Red Hat Enterprise Virtualization) as part of their server virtualization strategy. But protecting virtualized environments takes a little more planning to ensure all virtual machines (VMs) and their data are adequately protected.
Here are some top considerations when planning data protection for your Red Hat Virtualization environment:
Hypervisor level backups
The traditional way of protecting physical servers involved installing a backup client or agent software on the operating system. When performing a backup, a central backup server contacts the agent to perform the backup operations on the physical server. This is known as agent-based backup, and has proven to be an inefficient method of protecting VMs.
Enterprise-class platforms like Red Hat Virtualization typically offer a set of APIs to perform what is known as hypervisor-level, or agentless backup. This approach allows backup applications to perform backup and recovery operations through the hypervisor, limiting the performance impact on the VM itself, resulting in more control over recovery operations.
Backup to a secondary location
It is always best practice to store at least one copy of your backup data in an alternate location. Backup systems are designed to recover data lost during an incident, but if the incident impacts resources used by both the VM and the backup storage, recovery is not possible.
One of the most important rules for backup is the 3-2-1 approach where 3 copies of your data (including the original) are stored on 2 different types of storage, at least 1 of which is offsite and preferably offline. Best practice is to have a first backup performed on fast storage, close to the data store. Then, administrators typically run a replication job to copy the backup data to another location.
Incremental backups
Changed Block Tracking (CBT) is a technology that tracks storage blocks that have been modified since the last backup to ensure that only new and changed data is backed up. This significantly decreases backup time, leading to more efficient use of resources on the hypervisor, the backup server and the network infrastructure. Red Hat Virtualization does not have a CBT API, so your backup system needs to provide its own.
Snapshots are not backups
Red Hat Virtualization allows you to create a snapshot of a virtual machine. Red Hat describes snapshots as a view of a virtual machine's operating system and applications on any or all available disks at a given point in time. You can use a snapshot to return a virtual machine to a previous state.
These snapshots should never be used as a primary backup.
Snapshots are not a copy of the entire VM. The snapshot is actually a delta of the information that has changed in the VM since the snapshot occurred, allowing the VM to roll back to the snapshot point. They cannot be used independently to recover a VM, and they cannot be used if the original VM becomes corrupted.
Snapshots are also stored in the same datastore as the VM, which requires additional space and processing to manage. Over time, the snapshots can grow quite large – larger than the original VM disks. And storing the backup on the same storage as the VM exposes both to data loss if there is an issue with the storage.
Safe and efficient backup storage
The backup storage system is a crucial component of a Red Hat Virtualization backup environment. Considering the amount of data that backup storage systems must transfer and store, efficient processes to make backups faster and store less data is very important. One of the best technologies for backup storage is deduplication. Deduplication is the process of identifying data blocks to ensure that only unique data is stored. The best deduplication solutions identify unique blocks by comparing all data at the source hypervisor that is being backed up before sending the data to its final storage location. This is typically referred to as "source-side deduplication."
It is also important to make sure your backup data is securely encrypted, both while transferring across the network and while at rest on the storage, to ensure it is protected from unauthorized access.
Test your backups
Regularly backing up your VMs is only the first step. The reason you backup is to ensure that you can recover if there is an incident. Test the recoverability of your backup system periodically to make sure that backups are not corrupted.
Nobody wants to be in a situation where you need to restore your production VM from a backup only to find out that your backup is corrupted!
If you're looking for an easy way to protect and recover your data and mission-critical applications in Red Hat Virtualization environments, check out how Netvault® Plus by Quest can help simplify the backup and recovery of your VMs.
Quest can help
NetVault® Plus by Quest offers the new NetVault Plug-in for Red Hat Virtualization, making it easier than ever for organizations to protect and recover their business-critical applications and data in Red Hat Virtualization environments.
NetVault Plus combines the power of NetVault and QoreStor® by Quest to simplify backup and recovery of your VMs. It increases efficiency by consolidating VM backup management into a single backup environment that can protect all of your data across operating systems, hypervisors, databases and applications.
NetVault supports a wide range of storage devices, letting you store your backup data on disk arrays, virtual tape libraries, or physical tape libraries. It ensures that your virtualized environments are protected and can be stored off-site for disaster recovery purposes.
The NetVault Plug-in for Red Hat Virtualization speeds VM backups with high-performance incremental and differential backups for data stored in VMs resulting in shorter backup windows and allowing more efficient backup storage utilization.
QoreStor's software defined secondary storage platform can accelerate Red Hat Virtualization backups through protocol accelerators, reduce storage requirements and costs through content-aware, variable block deduplication, and replicate faster and safer to the cloud for data archiving and disaster recovery.
Best of all, NetVault Plus is an enterprise class data protection solution that supports other market-leading virtualization platforms including VMware, Hyper-V and Nutanix AHV, so you can enjoy a single solution to protect your entire virtual environment. It's also perfect for your physical servers and cloud resources too.