Data makes the world go 'round these days. Ultimately, that means organizations are storing more and more data for longer periods of time and often in very particular ways to meet business and industry regulatory compliance mandates. Protecting all that important data is crucial to business success, but backup and storage costs have skyrocketed.
Deduplication solutions are designed to eliminate redundant data stored during backup to help make data protection strategies more efficient and effective — but not all dedupe solutions are equal. Choosing the right deduplication solution for your situation can save storage space by up to a factor of 10.
Our technical brief, Deduplication: The hidden truth and what it may be costing you, sheds light on the different approaches to deduplication technologies and highlights the pros and cons of each:
Compression
Single instancing
Fixed-block deduplication
Variable-block deduplication
Content-aware variable-block deduplication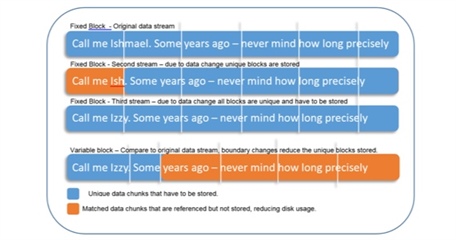 Each approach can impact your available resources and budgets in a slightly different way. Choose the right technology and you can reduce your costs as well as your data footprint. Choose the wrong deduplication technology and your costs and storage requirements will continue to expand.
Quest QoreStor can help because it is a true software-defined secondary storage technology, allowing organizations to be more agile in terms of deployment, infrastructure and location. QoreStor is software that can be installed directly on physical server hardware, in a virtual machine, or in a public or private cloud environment. Because QoreStor is not tied to any specific hardware platform (like dedupe appliances), you can choose any backup software you like.
Whether you're a veteran of deduplication technology or you're making your first-ever backup storage purchase, this tech brief offers plenty of food for thought. If you are looking to optimize your secondary storage for backup and recovery, hold optimized multiple copies in other locations, even in the cloud, in a cost effective and secure way, then look no further than Quest QoreStor.