For the longest time deduplicating data has been limited to the data center, stuck on proprietary hardware, with proprietary HDDs and has had the promise of being simple and easy. Further ignoring the changing technology landscape, deduplication appliances make zero use of the boom in commodity hardware, deliver zero gains for businesses investing in hyper-converged, and leave users with no option when they look to the cloud — that is unless you want another unscalable appliance.
To make matters worse, the secondary storage market, which relies on deduplication, has perpetuated the hardware-based deduplication paradigm by locking users into 3 and 5 year buying cycles that provide no pathway reuse their initial investments, leaving users to rebuy the exact product they already have. This poses the question, why is deduplication trapped on hardware and why is secondary storage not evolving with the data center?
Why can't Quest take the DR Series Appliance and turn it into pure software? Evolve maybe? Break free of the bounds of hardware? We did. Quest QoreStor is the evolution of the DR Series without any of the compromises brought by proprietary hardware. QoreStor introduces choice and flexibility into a market plagued by status-quo.
QoreStor software-defined secondary storage is built to run anywhere, on anything, where you want to run it.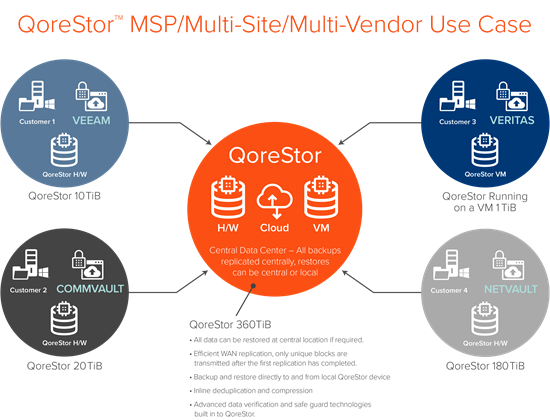 How did we get here?
About a year ago we asked ourselves, "Why is deduplication trapped on hardware and why is secondary storage not evolving with the data center?" This in turn lead to the question, "Why do we have a 'virtual appliance' that 'deduplicates' backups when we could have a software solution that could -e run as a VM, as a cloud instance or on commodity hardware?"
Not enjoying hypotheticals, we dug in and found an answer: Because no one had ever asked. The outcome: A brand new software-defined secondary storage platform that brings choice, flexibility and perpetual ownership to a market plagued by rack-consuming, inflexible, hardware-bound products.
Why does software make sense for secondary storage?
Software generally runs where you want it to. There are some restrictions for performance and throughput which can normally be tuned, however, overall software is ultimately more flexible than anything bound to hardware. Further, when we looked specifically at backup data and how users want to leverage cloud services for redundancy and/or archive versus relying on tape, a theme appeared. A theme that demanded a solution that could run where a user wants it to, is flexible enough that it would run in a cloud without blowing out costs and ultimately supports leveraging cloud native storage services to replace tape.
The only answer was to pull apart the Quest DR Series, make it installable on top of RedHat Linux, CentOs and Oracle Linux, create "cloud tuned" configurations and release a whole new product.
QoreStor is an industry-first, software-defined secondary storage platform that encrypts data in-flight and at-rest, compresses data, and importantly, deduplicates data at a 20:1 ratio. It saves time, saves money, speeds up backups and reduces risk.
What is QoreStor?
QoreStor is the evolution of the Quest DR Series, a secondary storage platform defined by software, not hardware, founded on over 10 years of data compression, encryption and deduplication at a 20:1 ratio, that represents choice in the secondary storage market. QoreStor continues to be backup-vendor-agnostic, with support for 11 of the leading backup products in the market today, Including Quest NetVault , Quest vRanger , Veeam and Commvault.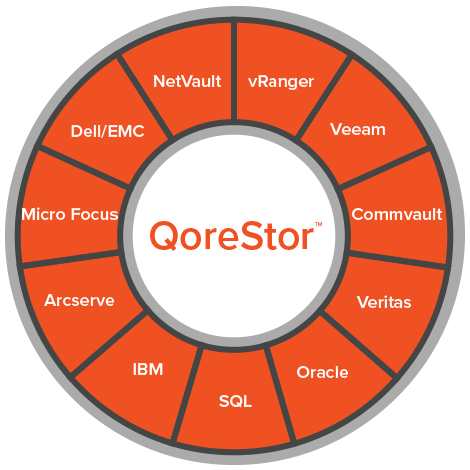 To ensure everyone can use QoreStor there is a free community edition that supports 1 TiB of deduplicated data available here.
Want to trial QoreStor? Download the trial here. Or run QoreStor on Azure by deploying an instance now.
Interested in seeing how much you can save? See our QoreStor Deduplication Calculator.
When we decided to build QoreStor we also looked to solve some very important issues, one of which impacts businesses globally: Protecting data in remote sites with limited bandwidth and sometimes unreliable links. I call this the "Best-Buy Scenario", a business with regional locations, critical data in each and where data must be backed-up offsite.
To solve for this we built a number of new technologies, in SecureConnect and SecureEdge, and enhanced the Quest Rapid Data Access plug-ins.
Rapid Data Access (RDA) Plug-ins enable source-side deduplication of data, with NetVault and vRanger. This means anywhere a backup is initiated, for backup products such as Veeam or Commvault RDA is installed on the media-server or backup proxy. Source-side duplication significantly reduces network bandwidth and accelerates backups!
SecureConnect encrypts data transfer and in the event of a network failure will continue to retry data submission to help ensure the transfer completes. Security and resiliency. This includes QoreStor to QoreStor replication.
SecureEdge is coming very soon. It's a remote backup accelerator that acts as a QoreStor proxy. To bring source-side deduplication to remote sites without having to install QoreStor or an RDA plugin, just deploy SecureEdge and configure your backups to write to it and you're done.
How did we enhance RDA? We now have a free QoreStor Software Developer's Kit that enables data deduplication directly into any application. Check out the SDK here
With these changes and enhancements to our existing deduplication capabilities QoreStor can protect data almost anywhere and replicate it to create a safe, secure and recoverable second copy.
Software-defined secondary storage shouldn't be disruptive to your current data center investments, it should enhance your investments, fit seamlessly into your chosen backup platform and introduce flexibility for data retention and recovery.
Quest QoreStor, will run inside a VM, on a physical server or within the public cloud, deduplicating, encrypting and compressing your data. If you have multiple sites with multiple instances, check out quest.com/qorestor, an optional SaaS application to manage every connected QoreStor instance right down to multi-site, QoreStor-to-QoreStor replication.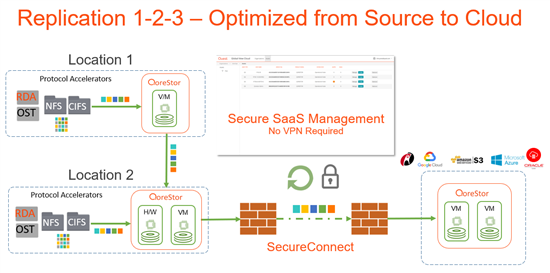 Your backups accelerated, your data replicated and your business protected.
If you own a DR Series Appliance, or QoreStor and want to learn more about QoreStor and how to use it, we have free web based training available here (active license required).
QoreStor is a Veaam Ready Repository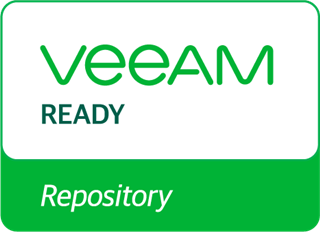 Below I have attempted to answer some common QoreStor questions from DR users.
I have a DR Appliance, can I replicate to QoreStor?
Yes! QoreStor leverages the same communication protocols as the DR Series and allows you to replicate from a DR to QoreStor. Imagine having offsite recovery in hours without any capex. This can be achieved by setting up QoreStor in Azure on a QoreStor pre TiB subscription leveraging our Azure marketplace images. In a matter of hours QoreStor will be deployed and connected to your DR, keeping a second copy of your data safe in the cloud, deduplicated and encrypted.
I have a DR Appliance can I install QoreStor on it to replace my DR?
Yes, we are able to help make this happen. please contact quest by visiting https://www.quest.com/contact-sales/# or contacting your Quest Partner.
Can I replicate data from multiple backup vendors to QoreStor?
Definitely, with support for 11 backup vendors, QoreStor will integrate into your backup strategy with minimal disruption.
QoreStor is available on Quest partners hardware, how is this different to an appliance?
Good question. You own the software and the hardware is commodity. This means if you decide to move, or even split your licenses, you just install QoreStor again and apply the license. If you split a 100 Tib license, you could run 50 Tib on-premises on your Quest Partner server, and the other 50 Tib in the cloud. If you choose to move the licenses then you can reuse your server for any purpose you see fit.
If you would like to learn more about QoreStor or read up on analyst thoughts see the links below.
Datasheet: https://www.quest.com/documents/qorestor-data-sheet-datasheet-132672.pdf
Whitepaper Storage Switzerland: https://www.quest.com/whitepaper/storage-switzerland-paper-on-qorestor8134538/
Whitepaper by DCIG: https://www.quest.com/whitepaper/rethinking-your-data-deduplication-strategy-in-the-softwaredefined-dat8136153/
DCIG Best in Show VMworld 2018: https://www.dcig.com/2018/08/dcigs-vmworld-2018-best-of-show.html
The Register: "Smells like machine spirit: L' Optane, Unity, NVMe and QLC. Take a sniff of a week in storage," August 13, 2018
SDxCentral: "SDxCentral's Weekly Roundup — August 10, 2018," August 10, 2018
Digitalisation World: "Software-defined secondary storage," August 8, 2018
Backup Review: "Quest Unveils New Software-Defined Secondary Storage Platform, Quest QoreStor," August 8, 2018
TechTarget: "Quest launches QoreStor for appliance-free dedupe," August 7, 2018
Storage Review: "Quest Unveils Secondary SDS, QoreStor," August 7, 2018
Channel E2E: "5 Channel Partner Updates: Tuesday 07 August 2018," August 7, 2018