As IT professionals whose jobs are to protect data, we're often forced to choose what matters most: Reduce cost, lessen risk or improve service. Implementing any one of these three options is easy if the other two are non-issues.
For example, if improving service is the least of your worries, sure, you can reduce costs by not spending money and switching things off. Or you can improve service by throwing money into your systems, but your costs will skyrocket.
But who has those options? You may be surprised to know that you do if you had a solution that:
Improves the VM performance in your virtual environment
Saves CAPEX and OPEX costs
Maximizes application performance and data availability
Delivers end-to-end visibility and control
A VM optimization tool can help you can reduce costs, lessen risk, and improve service and performance. In this blog, the first in a three-part series, we'll take a deeper look at how solutions like this can achieve one of these three benefits: Reducing costs.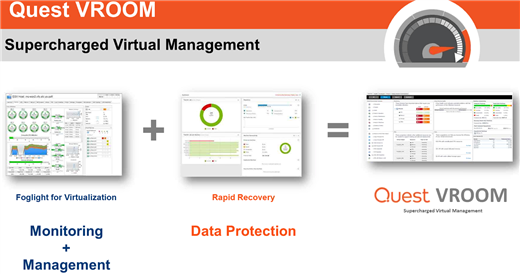 Identify and claim under-utilizes resources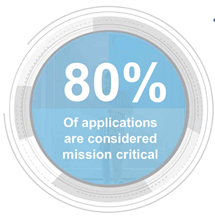 VM management is one of the key areas where you can reduce costs. In a recent webcast, 72% of our attendees indicated they support virtual infrastructure. Not only do we see the volume of virtual workloads going up, we also see complexity on the rise. In fact, we estimate 80% of organizations are using multiple hypervisors, either on premises, in the cloud, or in a hybrid environment combining the two.
And despite everything getting bigger and more challenging, we're still expected to use virtualization as a way to reduce OPEX and CAPEX costs. And that's growing increasingly more difficult with the rates of growth and complexity we're seeing when it comes to virtual management.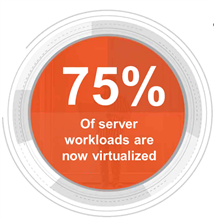 Forecasting capabilities allow you to identify and reclaim underutilized resources. This not only helps you maximize ROI on those resources, it helps you avoid having to spend budget buying technology you don't need. Plus, you'll be able to make more calculated buying decisions in the future.
For example, when it comes to virtualization management, maybe there's a VM that has more memory or CPU than it requires. If you have a solution that automatically detects this and reallocates, so you don't have to buy more gear you probably don't need.
Forecast future requirements more accurately
When you have actual data behind what you're going to need, you can forecast future requirements more accurately by seeing what you have, how it's performing and how things are trending. For example, if it's possible to reallocate some CPU cycles that you've already accounted for in your resource costs, let's say you can save $230. If you start looking at storage, you can potentially save upwards of $21,000 simply by being more sensible and efficient with how you use your storage.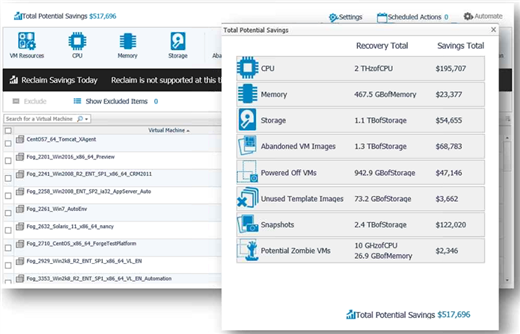 Ultimately, such capabilities help you save on software and hardware because you're optimizing everything you have, and you're making better decisions about what you need moving forward, which ultimately helps reduce OPEX and CAPEX.
Learn more about these capabilities in our on-demand webcast. (And bookmark this blog to catch our next installment on supercharging the performance of your virtual infrastructure).