Have I got a lucky shirt for you!
Dave B. Awesome here, your DBA brother from another mother, and listen, we've gotta talk PASS Summit fashion real quick. Now, I know "PASS Summit fashion" may sound like an oxymoron. But it doesn't have to be.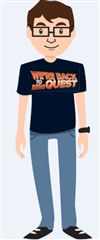 Let's get into what you packed for Seattle.
Some jeans? The "nice" pair? The ones without holes, with their extra fancy lack of knee ventilation? Good choice. But what about shirts? You throw in an old SQL Saturday tee? Maybe just a plain shirt -- nothing special?
Uh-oh
Hear that? That's the siren from the fashion five oh because you have just committed a clothing crime, my friend. See, here's the thing. The only shirt anyone who knows anything about style will be rocking at PASS Summit is this! Behold…
The Quest® tee.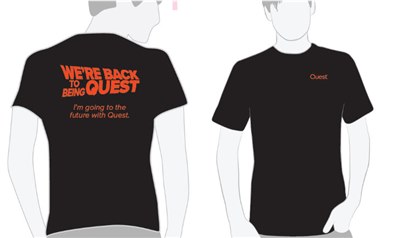 Can you even handle it?! The cotton. The… shirt shape. The "Back to the Future" theme! That's right. This isn't just any old shirt. This shirt? Has magical powers.
It could win you an Oculus and more.
Get this: the Quest tee, should you choose to wear it to booth #212 on Friday, November 3 at 1:50 p.m., could win you…
*Rips sheet off massive pile of incredible prizes*
An Oculus Rift + Touch Virtual Reality System
A state-of-the-art smart watch
A smart speaker
A Phantom Quadcopter Drone
Whaaaaat?!
Did I just blow your mind? I mean, can you even imagine walking away with one of these cool prizes? Can't you just see yourself lying in bed, your new Oculus headset making you smirk with glee, or your smart watch doing what smart watches do, or your smart speaker blasting rock ballads through your room, or your drone snapping pics of your lavish hotel lifestyle to post on social media and make everyone jealous and you never thought PASS Summit fashion could change your life but it totally did!
But, wait. Go back. Hop in the DeLorean.
How did you get so lucky?
You upped your odds, of course. Because arriving at our raffle in your favorite new tee is just one way to help yourself win.
You can stuff our raffle box with a boatload of tickets by:
Watching a theater presentation to get your free Quest shirt and a raffle ticket.
Following @Quest on Twitter to get another ticket.
Tweeting a picture from PASS Summit and using #jointheinnovation to get another ticket.
Registering for a Quest community at our community kiosk to earn yet another ticket.
Catching additional Quest presentations, tweeting more pics with our hashtag and registering for more Quest communities to gather even more tickets.
Now let's head to the future where you show up, once again, at booth 212 on Friday, November 3 at 1:50 p.m. with your fashionable Quest T-shirt to win yourself one of these cool prizes. Don't thank me. You can thank your lucky Quest tee!
Get Your Shirt On at Booth 212 >
You must have your t-shirt on to be eligible to win. No purchase necessary. A purchase will not increase your chances of winning. Exhibitors and government employees are not eligible (sorry folks!). Legal residents of the U.S. 18 years and older. Void where prohibited. Contest ends November 3, 2017. For official rules, prize descriptions and odds disclosure, stop by our booth.