Once in awhile, I find myself getting asked why Spotlight isn't firing off an email alert. If you find yourself in that situation and you have set up an alarm action, here are some quick pointers to help you check the issue.
Run the email test from the Alarm Actions to make sure an email can fire
When you setup an alarm action for email, you can test to see if the email goes though. From the Alarm Action that you created, click on the email link. In the email properties page, there is test button for you.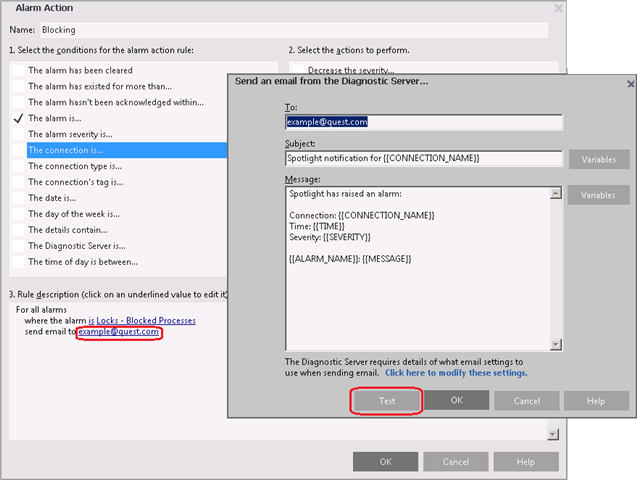 Check if an alarm fired
This sounds obvious but it is worth the while to check to make sure an alarm did get fired. If you create an alarm action for email notification, an email will not proceed unless an alarm is fired off. The best way to check is go straight to the alarm logs and look for the exact alarm that you are expecting an email for. The Alarm Log is found as a sub-category under the Monitor menu.
Make sure the correct thresholds is being checked by the Alarm Actions
This commonly happens. You are looking out for alarm with high severity but you accidently set the email alarm alert to be sent for a medium severity. Go back to the alarm action that you created and make sure the alarm action severity matches what you are looking for.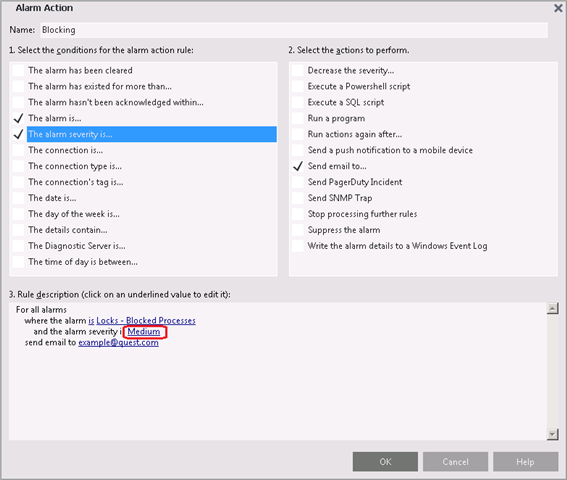 Check if email in junk box
From your mail application (e.g. Outlook), check your junk/trash/spam folder to see if the Spotlight email is going there. You might also want to check your email rules to make sure Spotlight emails aren't being funneled somewhere else. The email that you are using for Spotlight can found under "Configure | Diagnostic Sever | Mail Server | Configure the Mail Server."
Check if email stuck in email server
Lastly, check with your email admin to see if any rules on the server end might be blocking incoming emails from Spotlight.
If after going through the tips above and you still need help, visit Support Link to take advantage of our vast knowledge base or open a service request for a Support Engineer to further assist.