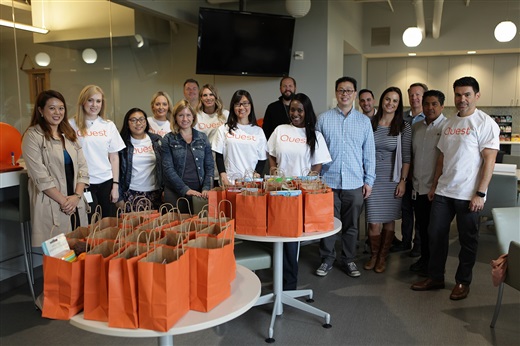 For the past few months, the marketing team at Quest's Aliso Viejo, CA office has been meeting monthly for bagels and coffee. In May, the team decided to turn their causal monthly gathering into an opportunity to give back to the local community and help those in need. Thus, the first-ever "Coffee with a Cause" event was held on May 31, with nearly 20 team members working together to assemble 66 gift bags for kids at the nearby Children's Hospital of Orange County (CHOC).

The gift bags featured a host of items purchased by the team, including rattles, teethers and sensory development toys for infants, and games, puzzles, coloring books, crafts, legos, Play-Doh, and other small toys for toddlers and school-aged children. The bags were delivered directly to the CHOC in the hope of brining a smile to the faces of hospitalized children and their families.

It was a rewarding, team-building experience for everyone involved, and the group is already planning its next "Coffee with a Cause" event in the near future.