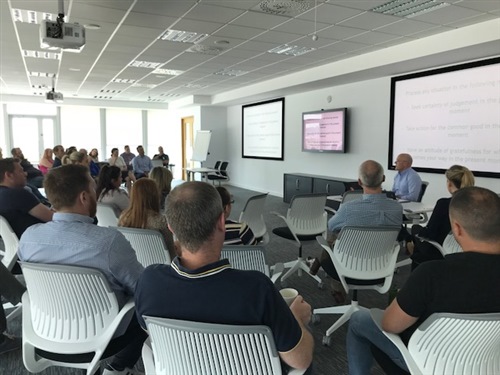 Earlier in July, the Quest Cork Office hosted its quarterly "Lessons in Leadership" session, a program aimed at helping Quest team members grow and advance their careers by listening to company leaders talk about their own career development and what it takes to become a successful leader.

The team was thrilled to welcome David Earhart, president and general manager of Quest's Data Protection and UEM businesses, as the featured presenter. Drawing on his own career experience, David's presentation centered on the 14 principles that make up an effective leader both inside and outside of the work place.

David talked about the importance of focusing on the things in work and life about which you care deeply, and about the importance of putting team before self in order to become an effective leader. David also reminded the team that it's ok at times to take steps sideways or even backwards during the course of your career, as long as you are always working hard, embracing the journey, and staying focused on what you can do to create individual and team success.

This was the second "Lessons in Leadership" session since the program's launch earlier this year, with David joining Katherine Tate as the program's initial presenters. The Cork is looking forward to hearing from more Quest leaders in the quarters to come.