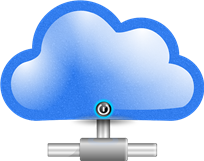 Adopting new technologies that best fit your company's business challenges can be a difficult process. Separating the marketing speak from true business value causes many firms to take a wait and see attitude towards cutting edge solutions creating innovation gaps and hindering competitive advantage.
Cloud solutions are an excellent example of technology that was initially slow to gain traction but today can't be ignored and should be part of your overall business strategy. It's difficult to find a company that hasn't adopted cloud at some level to gain advantage in their markets. While adoption of cloud is pervasive there are companies that are jumping ahead by combining the technology with a smart strategy. These innovative decision makers have fostered "cloud first cultures" that empowers their teams to investigate cloud based solutions first over traditional on premises solutions.
By starting with cloud these companies are building more agile and responsive IT infrastructures and can more readily take advantage of cloud benefits.
Reduced capital expenditures
Quick project deployment
Ability to scale at the speed of your business
Infrastructure customization and choice
Cultural agility – organizations that adapt to the changing environment
Companies that support Cloud first find themselves better positioned to take advantage of newer technologies because they have invested in a more agile and flexible foundation. As their commitment to cloud grows so does there proficiency to manage and leverage these environments. A research study from Enterprise Management Associates (EMA) citing over 600 Big Data projects shows that cloud is playing a critical role in these projects. Over 30% of the projects implemented for Big Data are deploying additional Infrastructure as a service (IaaS), platform as a service (PaaS) or software as a service (SaaS) solutions to execute these new innovative workloads. Companies already successful with cloud based projects are better positioned for success and cloud is speeding their progress.
As the landscape of IT and data management grows these companies are relying on innovative vendors to support more complex projects while supplying a wide choice of solutions that are easy to manage from a systems and security, performance and configuration standpoint.
Companies adopting cloud along with a cloud first culture are finding it easier to innovate, reducing risk and moving faster than their competition.
Next Steps
Have a look through EMA's research report, "Analytics in the Cloud: A study conducted by Enterprise Management Associates" for more details on how your peers are using cloud-based analytics.