Are you on Google and looking to move to Microsoft technologies? Whether driven by a merger or acquisition, an executive leadership change or a new platform release, many organizations are looking to move their Gmail and Google Drive content to Office 365 or on-premises versions of Exchange and SharePoint in order to standardize on the Microsoft platform and to take advantage of the new Microsoft features. Like any migration and consolidation project, a Google to Microsoft transition can be costly, labor intensive and fraught with risk without the right tools. If not done correctly, it can have grave impact on a business. Google Gmail, calendars, contacts and content from Google Drive must be migrated quickly and accurately to ensure an on-time, on-budget and risk-free migration.
For several years now, Quest has been migrating organizations off of Gmail and over to Exchange and Office 365. But now with Quest's 4.6 release of Migration Suite for SharePoint, our Google Migration solution is now complete!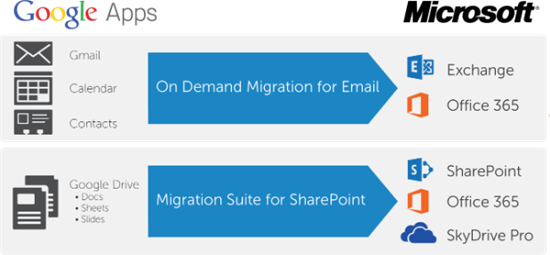 With Dell's Google migration solutions, you can easily migrate from Gmail and Google Drive to Microsoft Exchange, SharePoint, Office 365 and SkyDrive Pro with ZeroIMPACT on end users, as well as reduce the risks and resources needed to move.
If you want to learn more information, we just launched a new page on the Quest web site that showcases our Google migration solutions. Or, you can also download our solution datasheet to view offline.