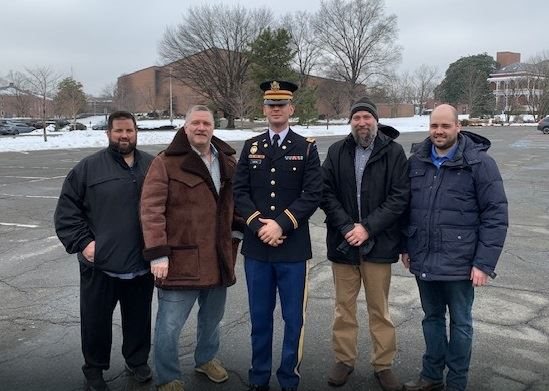 Support Engineers and Leadership from Data Protection and the Rapid Recovery Support Team took a break earlier this month from our week long QoreStor training to visit our Washington, D.C. -- only a short distance from the Quest Reston Office.
Our visit coincided with the recent U.S. government shutdown therefore many museums and monuments were closed, however we was still able to visit to the Tomb of the Unknown Soldier at Arlington National Cemetery and attend a prearranged tour of the Tomb Guards Quarters. We had a rare behind the scenes look at one of the most visible and highly sought after assignments in the United States Army.
Additionally, we were treated to an impromptu briefing by a member of the Caisson Platoon, the soldiers who conduct funerals in the cemetery using the Horse Drawn Caissons, which carry the flag draped coffins. The Caisson Platoon was preparing to conduct the funeral services for R. Lee Ermey, the Iconic U.S Marine, known for his portrayal of Gunny Hartman in Full Metal Jacket, among others.
After witnessing the Changing of the Guard, Quest team members were escorted below the Tomb Amphitheater where they were briefed by the Sergeant of the Guard on the history of the tomb. The story behind each solider who is interred at the tomb, as well as a breakdown of the Tomb Guard training and a tour of the Tomb Guard ready-area and quarters. The trip was memorable due to the professionalism of our hosts, the incredible attention to detail of each and every Tomb Guard, as well as a newfound respect and appreciation for the dedication of each of these young men and women who stand guard 24 x 7 x 365 and who adhere to an uncompromising creed "my standard will remain perfection." I was able to secure this visit to the tomb quarters as I was a 20 year member of the 3rd US Infantry (The Old Guard), 1981-2001, the same unit to which the Tomb Guards belong.
Following our morning at Arlington National Cemetery, we made a quick trip up to Gettysburg Battlefield National Park in Gettysburg, Pennsylvania and took a two-hour tour of the battlefield, which was based on the progression of the three-day ordeal. Gettysburg was one of the very few National Parks in or near the National Capital Region that was not shutdown. While the weather was chilly and the day getting late, the team was able to complete the tour before daylight ran out and closed out our day with some newfound knowledge on one of our country's most important conflicts.