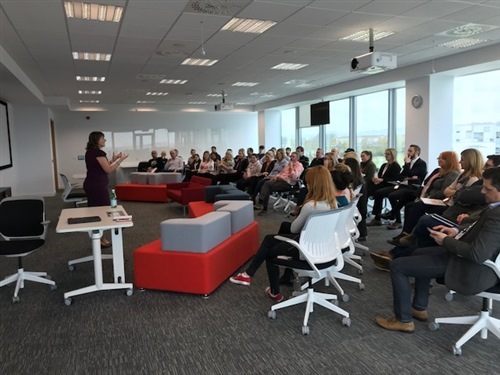 Back in April, the Cork team hosted its first-ever Lessons in Leadership session, a program aimed at helping Quest team members grow and advance their careers by listening to company leaders talk about their own career development and what it takes to become a successful leader.
The team was proud to welcome Katherine Tate as the featured speaker for this initial session. Katherine talked at length about her career journey, from her days as a technical support specialist to her current role as Chief Business Operations Officer at Quest, along the way sharing insights and learnings that team members can apply to their own career journeys. The lively and interactive session also included an extensive Q&A with our Cork team members.
Thanks to Katherine for sharing her story, and we're looking forward to more Lessons in Leadership sessions at the Cork office with other Quest leaders in the months ahead.