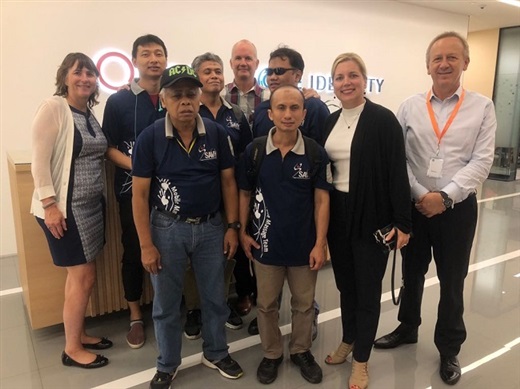 Continuing their ongoing commitment to giving back to the local community, the Quest Singapore team last week worked in partnership with Singapore Association for the Visually Handicapped (SAVH) and engaged the professional masseurs from SAVH for a mobile massage service for our employees. The SAVH organization aims to promote the needs, interests and aspirations of the visually handicapped by helping them to acquire the skills and self-confidence they need to succeed. Engaging with SAVH provides its members meaningful work and sustainable employment, which are key to their success.

The entire Singapore team was able to enjoy a relaxing moment at the end of a long business week, and more importantly, collectively contributed a total of USD 650 as gratuity for the masseurs from SAVH - generosity that goes a long way for the organization. This was the second employee community service event hosted by Quest Singapore team this year, and team is proud to have had this opportunity to serve the local community and make a contribution toward building a harmonious society in Singapore.

The Singapore team was especially excited to have numerous members of the Quest executive leadership and APJ leadership team on hand to participate, including our chairman and CEO Jeff Hawn, as well as Kathleen Owens, David Earhart, Katherine Tate, and Boris Ivancic. The encouragement and endorsement of Jeff and the rest of the leadership team demonstrated first-hand how important community engagement is to Quest.