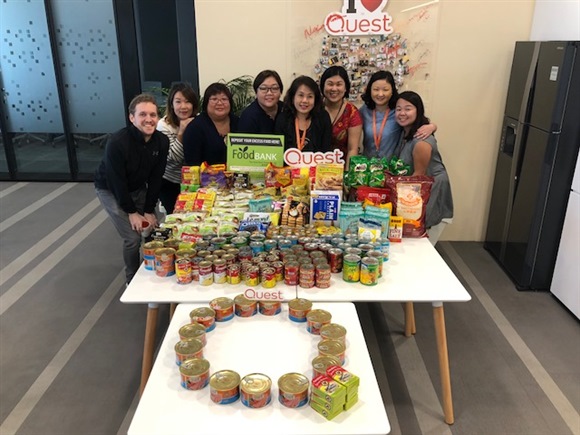 Continuing their ongoing commitment to supporting and giving back to the local community, the Quest Singapore team's most recent volunteer effort involved joining forces with Food Bank Singapore, an organization that strives to fight hunger by collecting surplus food and providing it to organizations and people in need. The Quest team first held a food drive at the Singapore office to collect items for Food Bank Singapore. Then, this past Friday, a team of 22 Quest volunteers spent time at the Food Bank Singapore collection center, sorting and storing the food in the organization's warehouse.

The food collected by the team, which included staple items such as rice, noodles, and pasta, beverages (including hot beverages, milk powders, and tea), condiments (including oil, salt, and sugar), snacks (including biscuits, cereals, chocolates), canned food (including meat, seafood, and fruits), and dried/preserved food (including beans and canned vegetables) will eventually be delivered to more than 130 beneficiary organizations in Singapore.

The experience was a memorable one for the entire Singapore team, and the group is already looking forward to continued collaboration with the Singapore Food Bank in the future.