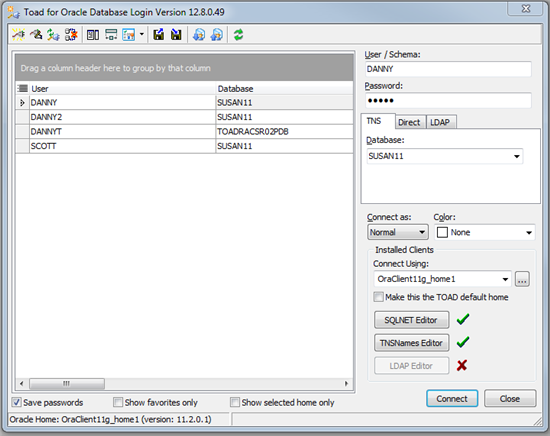 Connecting to your Oracle databases is one of the simplest tasks until you can't connect. This becomes the ultimate roadblock stifling your ability to get your work done.
Fortunately, Toad for Oracle users have a useful Login Connection window, which not only facilitates one network's workflow; but it has a handy built-in Advisor features to self-help the user to resolve their connection issue.
In this video, Support Engineer, Susan Kilpatrick, focuses on the right hand panel of the Connection Window and its many features.
The following topics are covered:
The Toad requirements to connect and the Oracle client and Oracle files needed (i.e., tnsnames.ora, ldap.ora) including familiarizing Oracle database connection files.
Demonstrations how to connect to an Oracle database with the three connect methods, (TNS, Direct and LDAP) including configuration tips on each of the connection methods.
Troubleshooting features to assist in localizing, analyzing and resolving connection errors with useful connection information including Oracle error solutions
Along with the above points, there are introductions to TNSNames and SQLNET Editors, the Oracle Home Selector, the "Connect As" selector, and the Connection Colors.
Additional useful topics can learned within Toad for Oracle Support Portal page.