One of the big new features of Toad Data Point 4.1 release is a 64-bit installer offering.
There is a unified installer that contains both a 32 and 64-bit Toad Data Point 4.1 installer.
(Note: The Toad Data Point beta will only come in a 64-bit installer.)
Although, the installer will not allow a side-by-side install with the same bit version; the new installer makes it easy to swap one-bit flavor for another via uninstalling previous bit edition and reinstalling the desired bit edition.
Installing the applications are seamless and problem-free, the application knows where the product should be installed in C:\Program Files or the C:\Program Files (x86) path.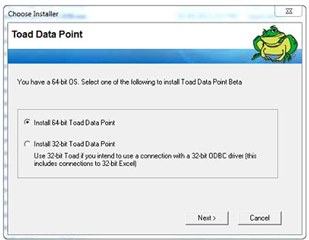 The reason for this additional 64-bit edition of Toad Data Point is that statistically, most users are in a 64-bit OS environment. Henceforth, users desire a 64-bit application to take advantages of that operating system. During benchmark testing, the 64-bit application Toad Data Point has about a 33% improvement in speed with a smaller footprint.
How did Toad Data Point support 64-bit clients in the past being a 32-bit app? Within the backend, there is a piece of code that acts as a bridge that translates from one bit-ness to another. Although Toad Data Point supports a 64 -bit, Toad, in addition, supports a 32-bit client because again behind the scenes there is another translating new bridge. One can see this in the Windows Task Manager under the processes tab, under image name look for the Toad64.exe*32. There is a slight performance hit going through the translation processes for the bit addition.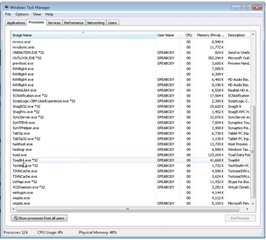 Thus, the question is what bit edition should be used selected 64-bit vs 32-bit?
Basically, it deals with the data source provider one is connecting to.
The connection matrix below displays what Toad Data Point bit edition that should be used for what data source client.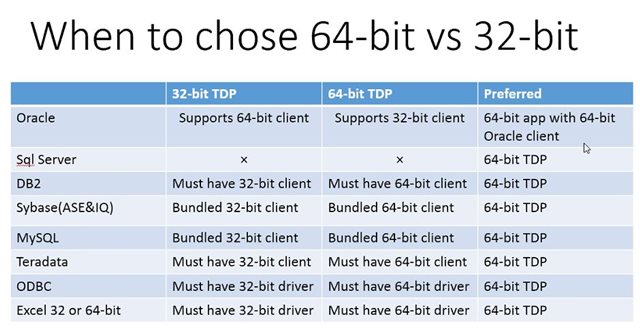 Use Toad Data Point 4.1 software download and resource information.