I hope you're all signed up for Microsoft Ignite 2019— and that you've already marked your calendar with the opportunities I mentioned in my last blog post: Sean Metcalf's presentation on Active Directory security followed by the "office hour" he's hosting at the Quest booth (#2149) for anyone with additional questions on the topic. Microsoft MCMs are nearly as rare as compliments from end users, so don't miss this chance to talk with one.
Of course, there's a lot more to look forward to at Microsoft Ignite, and I wanted to give you a head's up about another presentation I'm excited about. It's session BRK2193 on Tuesday @ 12:45: "Customer story: How to achieve a secure and modern login experience with Microsoft Azure and Office 365." This won't be some deadly boring list of platitudes but an engaging discussion of one company's real-life experiences in moving to the cloud, including both the challenges involved and the best practices for overcoming them.
How do I know? Because the hosts of the session are Brian Hymer, a colleague of mine at Quest, and Chafic Menayrji, Senior Director of Global End User Technology Platforms at John Hancock, a financial services company and top-ten Azure consumer that is moving variety of workloads to Azure and Office 365 as part of its IT modernization strategy. During the 45-minute technical session, you'll learn about the specific challenges they faced in delivering a secure, modern login experience for end users while ensuring compliance with SOX, HIPAA and other regulations — along with the business strategies and technical best practices for overcoming those challenges. Brian and Chafic will share their expert insight into privileged account management and delegation; user self-service and provisioning; compliance auditing and forensic investigation; business continuity and operational agility planning; and more.
Ready to pencil it in? Here are the details:
Session code: BRK2193

When: Tuesday, November 5 @ 12:45 pm – 1:30 pm

Where: W300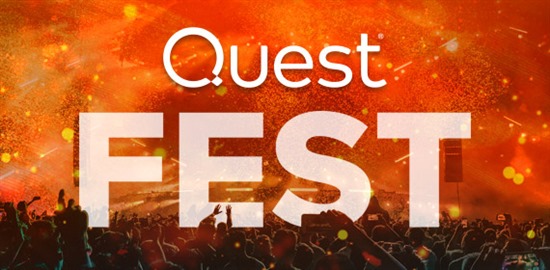 I also want to repeat my exhortation from my previous blog: Register NOW for Quest Fest! It's an amazing party that Quest hosts at the end of each Microsoft Ignite conference — and the free tickets run out every year. This year, it's from 8 pm to midnight on Friday, November 6, at Mango's Tropical Café, one of the premier party venues in Orlando. There will be great food and drink, amazing dance performances, and tributes to musical icons like Michael Jackson, Tina Turner and Selena, all courtesy of Quest. Trust me; you do not want to miss it.
Finally, be sure to explore the full slate of activities and giveaways that Quest has planned for Ignite. Our booth (#2149) will be decked out Game of Thrones style, and we'll have some awesome prizes to match. For instance, on Tuesday at 5:30, we'll be raffling off a GoT-inspired holiday to filming locations in Iceland, and on Wednesday at the same time, we'll giving away a similar holiday in Croatia! And that's not all. Check out the Quest Ignite schedule for the complete list.
I'm looking forward to seeing you at the Quest booth (#2149) in Orlando!