Anyone who is anybody will be attending Microsoft Ignite this year (Sorry, if that's not you, you're still a nice person and tell great stories with such enthusiasm). This year, Ignite moves out of the "September Florida heat" and a few months later into the coolness of November.
While it's cooling off in the fall, Ignite is the hottest show of the year – and when you think of Ignite, you have to think about Quest and all the special things we are doing at the show. Last year, people were lined up around the booth to get in on the action and even more people were lined up around the block to get into our yearly celebration. It's safe to say that, while the air might be cool outside, our booth at Ignite will be on fire! (See what I did there?)
Quest – your Microsoft expert at Ignite
You know Quest as your go-to for everything Microsoft! We have never been more pumped about the products we're making and the problems we're solving than this very moment.
You'll find us at booth #2149, where we'll have the latest technology for you to check out around moving, managing, and securing your Microsoft platforms. You'll also have a chance to win some insane prizes at our daily raffles, such as:
A Garmin watch at 6:30 p.m. on Monday, a Game of Thrones inspired trip to Iceland at 5:30 p.m. on Tuesday, a Game of Thrones inspired trip to Croatia at 5:30 p.m. on Wednesday and a pair of Beats Solo3 Wireless Headphones at 11:30 a.m. on Thursday.
Microsoft expertise, crazy prizes, T-shirts and even a bin ball game all at one booth? It surely can't get better, right?
Think again.
Quest speakers and sessions
Just like Top Gun, we have the best of the best in terms of the speakers that you will not find anywhere else: Meet up with:
Brian Hymer, Solutions Architect – Brian is an avid computer expert with over 30 years in the IT industry. He has a varied background and has worked in IT for Power, Retail, Healthcare, Insurance and Financial organizations. Over his 19 years at Quest, he has travelled to customers around the globe sharing his experience and helping them implement and use Quest products in a wide variety of environments. He has also presented on numerous worldwide webinars and is a subject matter expert on the Windows Security Log and Active Directory Forest Recovery.
Chafic Menayarji, Senior Director – Chafic is responsible for the establishment, development and promotion of direction, architecture & security standards and governance of end user technology. Over his 14 years as a technology professional in the financial industry, he led several global projects supporting corporate growth impacting employees in 12+ countries in North America, Europe and Asia, some of which have been mergers and acquisitions.
Sean Metcalf, Microsoft Certified Master/Trimarc Founder & CTO – Sean Metcalf is founder and principal consultant at Trimarc (TrimarcSecurity.com), a professional services company which focuses on improving enterprise security. He is one of about 100 people in the world who holds the Microsoft Certified Master Directory Services (MCM) certification, is a former Microsoft MVP, and has presented on Active Directory attack and defense at Black Hat, BSides, DEF CON, DerbyCon, Microsoft BlueHat, Shakacon, The Experts Conference (TEC) and Walmart Sp4rkCon security conferences. He currently provides security consulting services to customers and regularly posts interesting Active Directory security information on his blog, ADSecurity.org.
These are some of the brightest experts in the field providing insight into how you can improve your business. Their agenda includes:
A 45-minute Dedicated Technical Session with Chafic Menayrji and Bryan Hymer on Tuesday, November 5th at 12:45 p.m. – 1:30 p.m.
A 20 Minute Technical Session with Sean Metcalf on Wednesday, November 6th at 12:40 p.m. – 1:00 p.m.
No fest like a Quest fest!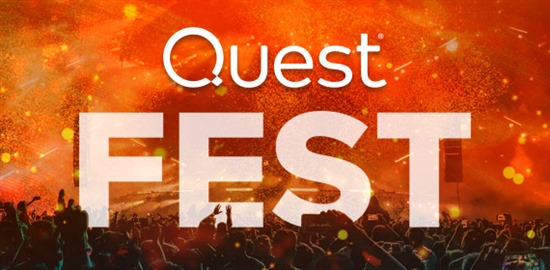 Sandwiched in the middle of the week (I'm hungry) is the single best place to be to let loose – Quest Fest, taking place at Mango's Tropical Café, one of the premier party venues in Orlando!
Join us on Wednesday, November 6th from 8:00 p.m. – 12:00 a.m. for an unforgettable night of fun with amazing dance performances and tributes to musical icons like Michael Jackson, Tina Turner, Selena and more! Enjoy delicious food and a beverage alongside the company of friends – you deserve it!
Quest Fest is invitation only and sells out each year, so make sure to register now.
Ignite success
Microsoft Ignite provides a training and networking opportunity that you won't find anywhere else. By joining Quest at Ignite, you will learn how to improve the way you move, secure your Microsoft platforms – and more.
Get more details about our Microsoft Ignite agenda, sessions, locations and times so that you can be fully prepared.
As the weather gets colder, you can catch fire and ignite your business. No extinguishers needed.