Quest is excited to announce the addition of a new SharePoint migration workload to the On Demand Migration service.
The On Demand Migration - SharePoint workload migrates SharePoint Online content from tenant to tenant. This release supports the discovery and migration of site collections (top-level sites) based on the following templates STS#0 (classic team site) and STS#3 (modern team site). We plan to announce many new features in the future to support your migration needs.
On Demand Migration - SharePoint maintains the same easy-to-use user interface that you see within the ODM platform. The Dashboard screen provides you with a high-level overview of:
Migration state of site collections
Discovery and migration tasks
Any migration errors
You can also perform the following tasks in the Dashboard screen:
Configure the connections to your source and target SharePoint Online tenants.
Discover the site collections in your source SharePoint Online tenant.
And you can configure your project default settings.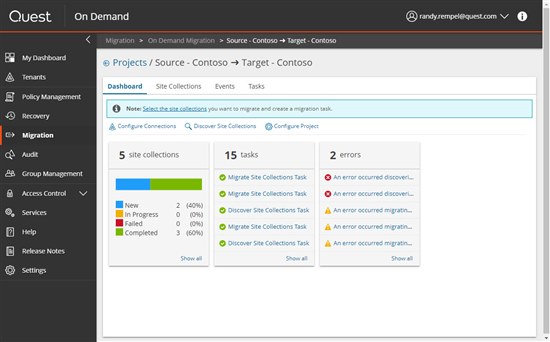 Image 1: On Demand Migration - SharePoint – Dashboard Screen
We describe a simple 9-step migration process in our documentation:
Create SharePoint Online migration project
Set the migration defaults (optional)
Configure connections
Discover site collections (top-level sites) on the source tenant
Map source sites to the existing target sites by URL (optional)
Provide the custom site mapping using CSV file (optional)
Override migration defaults for specific migration tasks (if necessary)
Migrate site collections and their content
Monitor the progress and track issues
Quest recommends performing test and pilot migrations before starting the full-scale migration of the production environment.
The best way to learn more about the capabilities of our new workload is to try On Demand Migration online. You can register here for a free trial.