This blog post will lay out an overview of what we can hope to expect from SharePoint 2019.
SharePoint 2019 Announcement
Even though it was widely expected, most of us were still relieved at the announcement of SharePoint 2019 at the Microsoft Ignite conference back in September 2017. With the preview expected mid-2018 and a possible release towards the end of 2018, many customers now see a light in the end of the tunnel… and it's not a train.
Here are some key announcements that we've been hanging onto:
"At Microsoft Ignite, we announced our vision, strategy, timeline, and investment areas for SharePoint Server 2019, in addition to our continued investment in SharePoint Server 2016 with Feature Pack 2."
- Jeff Teper, Corporate Vice President, Microsoft Office
"SharePoint Server 2019 is a comprehensive solution for connected information work that preserves structured processes, compliance, and IT investment, [and it's] optimized for the way people work through an easily managed and integrated platform. Big bets in SharePoint on-premises 2019 are listed in the following:
Next-Gen Sync Client support
Modern UX throughout the product
Flow / Power Apps integration
Other SharePoint Online innovations."
- Ron Grzywacz, Premier Field Engineer, Microsoft
Before giving you my take on what SharePoint 2019 holds in store for us, let's list some of the reasons why organizations are (still) choosing to stay on-premise, versus moving to the cloud with SharePoint Online. This ultimately will bring us to the future release of SharePoint 2019.
Reasons to Stay with SharePoint On-Premises
Line-of-business apps integration
Managing of updates & changes
Customization methods & abilities
Data compliance restrictions
SharePoint public website
Subscription cost vs. Investment cost

Keep in mind that for many organizations, on-premises is no longer the only choice, since hybrid has become a viable option.
Expected Updates
Next-Gen Sync Client support
Currently, the new Sync Client is not available with SharePoint on-premises, though it will be supported in SharePoint 2019.

Modern UX
I'm super excited about this as I have many clients complaining about the "old look and feel" of SharePoint, especially now that they've seen the magic in SharePoint Online.
Of course, I'm not sure what exactly Microsoft will give us. It could be a more consistent user experience across Windows, OneDrive, and SharePoint… or it could be a modern look and feel across Communication and Team Sites in SharePoint 2019.
In my opinion, it would be great to have an updated mobile experience for SharePoint as well.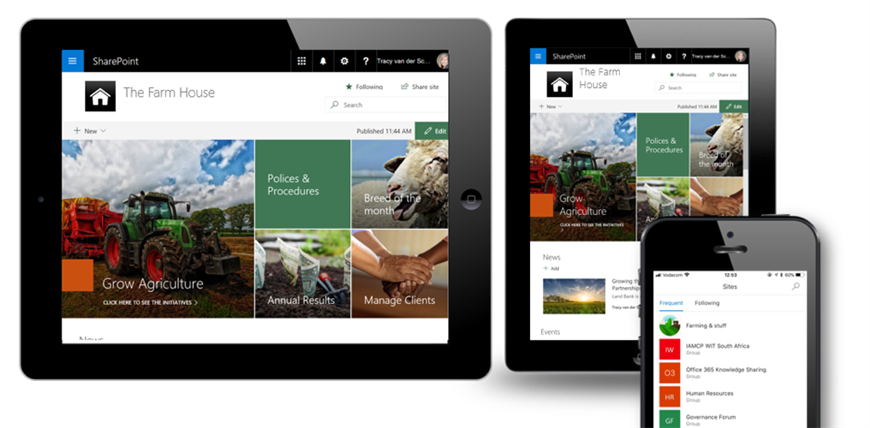 Flow / Power Apps integration
For this, I suspect that the integration will apply to hybrid environments. We'll have to wait and see how much of the functionality will be available. For those who are new to Flow & PowerApps, here's an overview to get you excited about adding this to your box of tricks.
Microsoft Flow
Microsoft Flow is an app that helps you create and automate workflows across applications and services. The beauty of Flow is that an end user can create workflows to automate mundane tasks—even with limited training. Pre-built templates and connectors eliminates the dependence on development.
Let me give you an example:
Sarah works in Finance (Accounts Payable), and she receives hundreds of PDF invoices and statements each month, which she must then "download" and save to a File Share or OneDrive folder, or even SharePoint.
With Flow, she can (Yes, she can!) create a Flow that monitors her mailbox when new mail arrives from a specific supplier. It can then automatically save the attachment to a specified folder on OneDrive and SharePoint.
Imagine how much more time could be saved if she takes this one step further and creates an approval workflow on any new documents added to that folder?

Microsoft PowerApps
PowerApps allows us to easily build business apps for use on web, iOS, Android, and Windows 10. Again, pre-built templates and connectors are available to speed up the delivery time of apps. Lower development skill requirements also puts the power back into the hands of business.
Personally, I worked in auditing and compliance environments for many years, and PowerApps would have changed the way we managed Incidents.
Imagine an auditor conducting a site walkabout, writing down audit findings on a form, taking photos, and then going back to the office to type it out on Excel and send it to all the relevant people. With PowerApps, the auditor can log it directly on their phone in a mobile-friendly form, which automatically updates the data to a SharePoint list.
Some of the currently available templates are: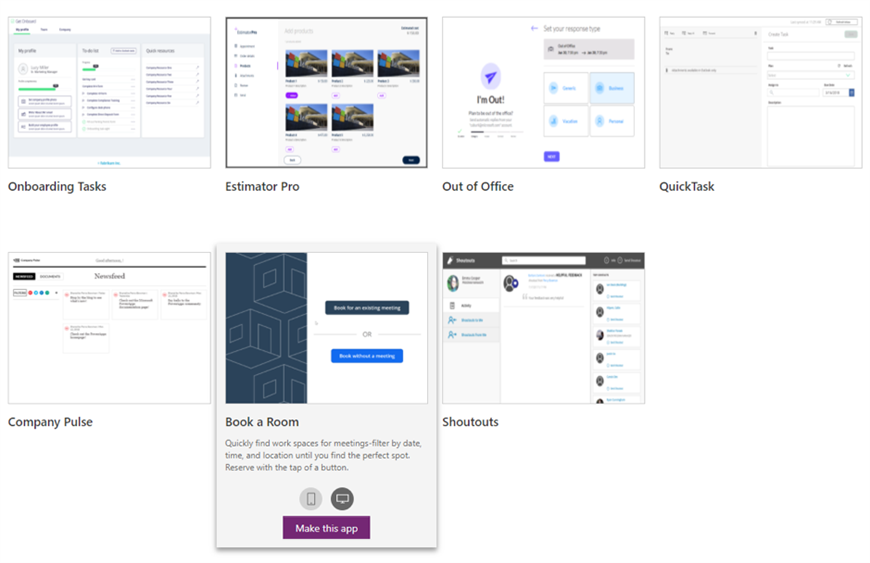 Conclusion
Regardless of the exact updates we'll be receiving, I'm sure that SharePoint 2019 will surpass our expectations, especially with Microsoft's continued investment in SharePoint On-Premises.
I'm looking forward to working with clients who'll now have more access to the features we already have in SharePoint Online.
Microsoft Resources