Background
We are very excited to announce the general availability of Quest® Foglight® version 6.0.
Foglight is the world's broadest and deepest monitoring and optimization solution for the hybrid enterprise. Foglight brings unique top-to-bottom infrastructure monitoring and optimization capabilities for your hybrid IT stack including databases, cloud infrastructure, operating systems, hypervisors, containers and more.
What's New in version 6.0?
Alarm Templates Wizard
Managing alarm configurations in complex hybrid infrastructures is a challenging task.
In heterogenous environments, you usually find yourself working with multiple wizards and different tools to configure alarm settings and templates. This usually results in an inconsistent user experience which makes alarm management a difficult task for IT professionals. The good news is that it doesn't have to be that way. With version 6.0, we introduce a simplified approach for managing alarm configurations across multiple targets.
This can be easily done using our new intuitive alarm template wizard. For example, you may want to create a template for your production infrastructure including databases, hypervisors, containers and cloud infrastructure. This template needs strict thresholds settings due to the importance of the production environment. In addition, you can create another template for your test/dev environment that has less strict alarm settings because it is intended for non-mission critical applications.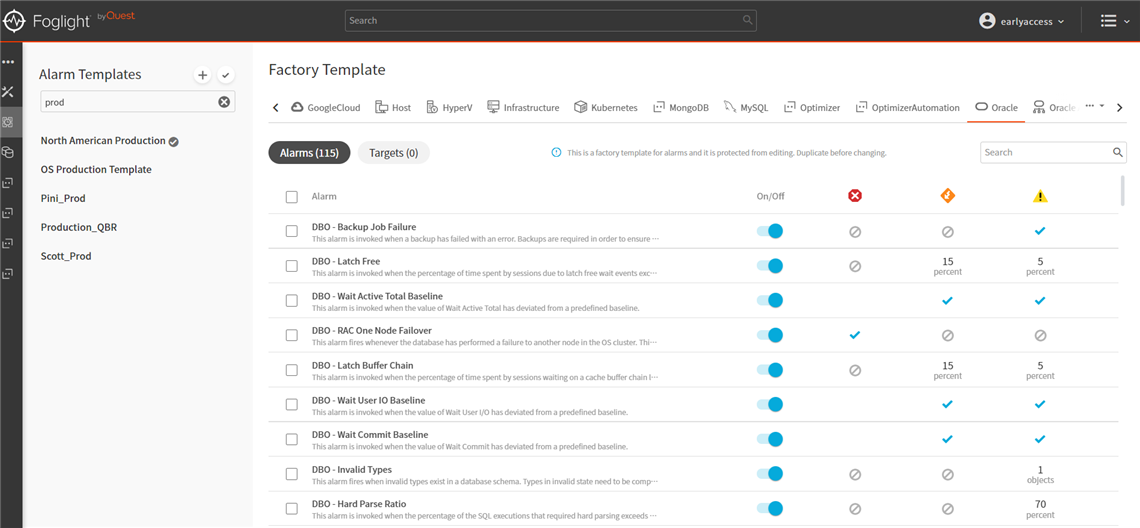 MySQL Performance Investigator (PI)
Performance Investigator (PI) is one of Foglight's most popular features. PI offers multidimensional analysis which brings deep visibility into the most complex database performance challenges. Multidimensional analysis enables users to drill down, slice and dice workload performance data and gain visibility into performance bottlenecks. For example, a user can easily drill into a list of schemas to find the one with the most load, and then dive into that schema to view the top users or see SQL statements for individual users.
MySQL is the most popular open source relational database (according to DB-Engines.com) and one of the most popular database engines in the world. We've seen a tremendous demand for MySQL PI, and we are happy to announce its general availability with this release.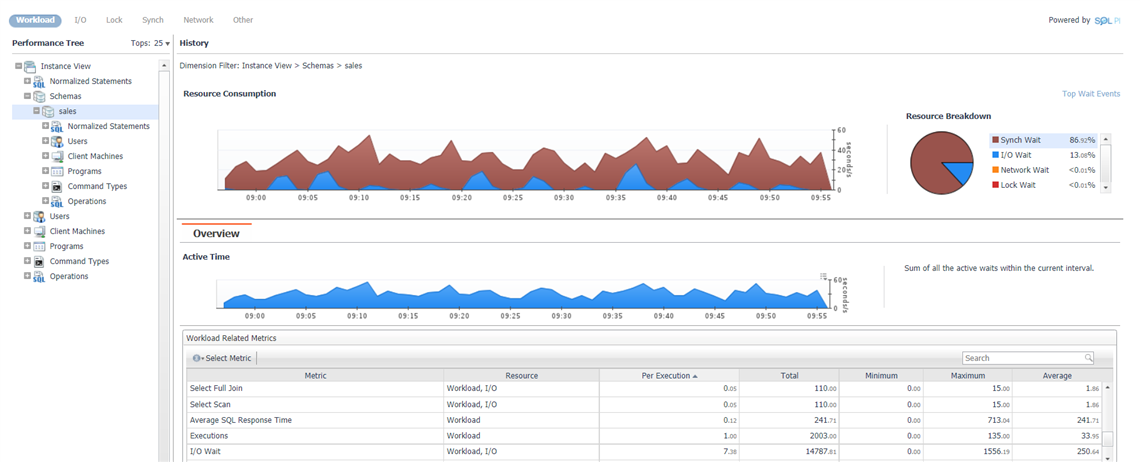 Consolidation Advisor
Foglight Consolidation Advisor helps you to plan future consolidations of your virtual and physical servers by calculating the combined load of virtual machines and physical hosts and recommending the hardware needed to run the combined load. The load is defined as the total use of the following resources:
The recommendation is a list of hardware needed to run the combined load. You can define a set of servers you are considering for deployment in your environment. Consolidation Advisor chooses from this list of servers and spreads the load evenly.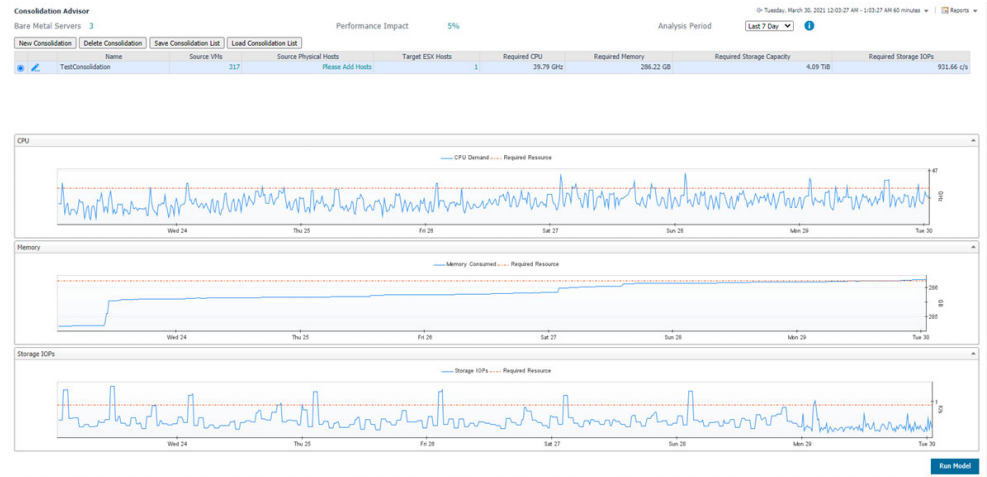 Flexible Subscription Licensing for Managed Service Providers (MSPs)
Businesses increasingly seek to convert CapEx to OpEx by adopting subscription-based and outsourced services-based purchasing models. With version 6.0 we offer flexible, subscription-based, pay-as-you go licensing. This eliminates high upfront costs!
Framework Usability Enhancements
We also improved the general framework usability – by simplifying the navigation bar and adding a smart, free text search box with autocomplete so you can quickly and easily access performance data for any monitored target in your hybrid environment.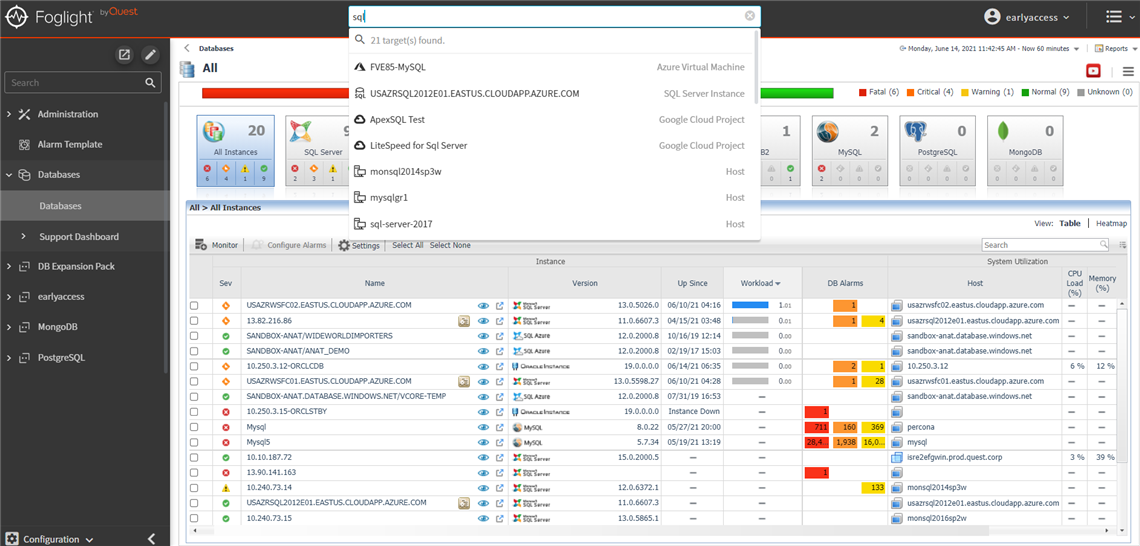 Summary
Foglight version 6.0 introduces major product enhancements in various aspects:
Domain

MySQL Performance Investigator (PI)
Consolidation Advisor

Usability

Modernized cross-platform alarm template management wizard
Framework usability improvements

Flexible Billing

New subscription model for MSPs