As part of most any database monitoring software evaluation, it includes comparing that software to similar solutions. Logically, it often means doing head-to-head comparisons to database tools that come bundled with that particular DBMS. Regularly, I see evaluators take note of similarities and differences in architecture, usability and navigation, and product features that present specific information to help address common use-cases. One of the more common scenarios is a DBA attempting to understand the value that Foglight for Oracle brings versus that of OEM – Oracle Enterprise Manager. During POCs (Proof of Concept), I sometimes encourage evaluators to consider Foglight for Oracle as a compliment to OEM rather than as a full replacement. Although Quest offers Oracle administration solutions, (like Toad), Foglight is intended as a monitoring and diagnostics solution. OEM is often best for many operational tasks not suited for Foglight. Foglight alerts users to potential performance issues and provides detailed metrics for diagnosis.
Here's what a DBA team discovered when they participated in a detailed evaluation of Foglight.
Foglight does not require agents

to be installed on the monitored instance. OEM requires agents.
Foglight does not need Oracle licensed packs

(like Tuning/Diagnostics packs) that OEM requires. Foglight was designed in a way that it provides performance diagnostics capabilities without accessing any licensed view/table/API, etc. in order to support all Oracle editions and configurations.
Change Tracking

– "…a big plus for Foglight…" "…a very useful feature…" Foglight tracks changes that occurred via PI> Advanced Analytics tab>Change Tracking tab. OEM requires the Configuration Management Pack for Applications (CMPA) to track any configuration changes and the Change Management Pack to track or compare any schema changes.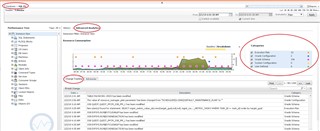 4. Comparisons – "With Foglight, it is very easy." You can compare…
- Dimension activity with different time ranges
- With a baseline of the same instance
- Another database instance
In OEM, you need to first generate AWR reports, then compare against a baseline or with another AWR report.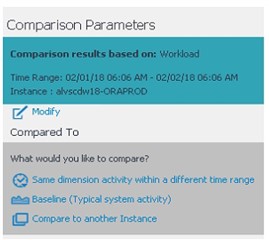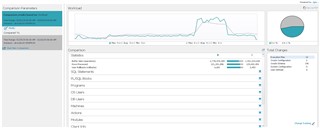 Blocking History

– Foglight shows blocking history for any time period you choose (that's stored in the Foglight Repository). In OEM, it only shows current blocking.

Foglight has

real-time Active Session monitoring, not in OEM. You can kill a session from this screen as well.

Foglight displays Physical Read and Physical Write numbers for all tablespaces.

OEM does not show you this. To see similar metrics in OEM, you would have to run AWR, ADDM reports.

OS level monitoring

– Foglight provides some helpful drill-down metrics not available in OEM, like

historical

Top Resource (CPU, Memory, Network) processes.
Custom Dashboards

– With Foglight, you can create your own dashboards - choose the data you want, how you'd like it displayed, and grant access to these dashboards to other users. OEM does not provide this capability.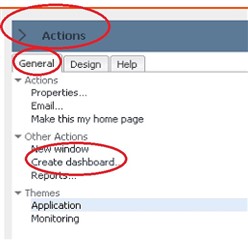 Cross-DBMS platform support

– For those environments that may have other database types like Microsoft SQLServer, IBM DB2 LUW, SAP Sybase, MySQL, PostgreSQL, Cassandra, or MongoDB (and support for additional types is planned), Foglight has the advantage of a single web-based interface to monitor all of them.

For more information, or to request a trial, visit the product page: Foglight database monitoring