We are excited to announce that Foglight for Databases version 5.9.7.10 is now GA! In this post, I would like to share the key product enhancements of this new version.
PI Repository Enhancements
Earlier this year, on March 31st, we announced the General Availability of the new SQL Server-based repository for our Performance Investigator (PI) offering. With that release we delivered a higher level of performance – according to a customer : "I have been clicking around the past two days and I must say so far this is 1000x better than Infobright. The UI is super responsive"
With this new 5.9.7.10 release we are introducing several key PI Repository Enhancements:
AWS RDS for SQL Server Support – The PI data repository can reside in AWS RDS for SQL Server. This brings increased flexibility to customers with completed or in-process cloud migrations who are interested in having the PI repository in Amazon's popular DBaaS offering instead of on-premises.
SQL Server on Linux Support – To this point, we supported SQL Server on Windows (which is the most popular OS for SQL Server). Now, we also support SQL Server on Linux for increased options for Foglight deployment.
High Availability & Disaster Recovery - In addition, we now fully support HA & DR for our PI repository. This is particularly important for customers who need to ensure 100% or near 100% availability SLA for their Foglight platform.
New Alarms
Foglight for Databases comes with dozens of alarms out of the box. In every release we evaluate the demand for additional alarms and one that was requested several times in the last few months was "long running session." This new alarm is invoked when a session's execution time exceeds a predefined threshold. This alarm is available with SQL Server PI and Oracle PI cartridges.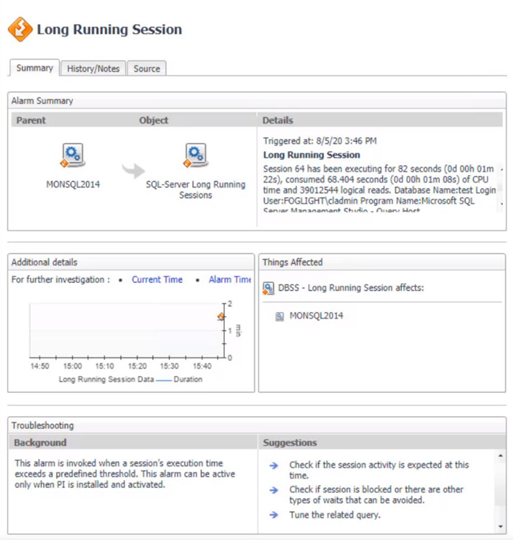 FIPS Compliance
Federal Information Processing Standards (FIPS) is computer security standard used to approve cryptographic modules. We are happy that now Foglight is a fully FIPS-compliant product, as this compliance was requested by our customers.
Quick Guide Tour
One of our key priorities with Foglight is to deliver an awesome user experience. Starting with 5.9.7.10, we will provide a quick guide tour that will help onboard new Foglight users with a simple tutorial that walks them through the basic functionalities of the product.