The Foglight team is pleased to announce that Foglight Management Server 5.7.5.8 is now available for download.
Over the past year, we have been delivering quarterly releases focused on improving the reliability, performance and manageability of Foglight. We have seen significant improvements in performance and stability, especially for large, multi-domain enterprise style installations, and have delivered many usability enhancements directly requested by our customers. Foglight 5.7.5.8 carries on in that tradition. The release is primarily focused on simplifying the management of Agent Managers and rebranding the UI to Quest, but there are also a handful of architectural upgrades and usability enhancements requested from our customers.
The most obvious change you will notice is the rebranding work to align the product back to the Quest name. There is a flashy new splash screen and some improvements to the collapsible left and right side drawers. A less obvious change related to rebranding is related to the infrastructure agents. We are deprecating and replacing the agents with "Dell" in the name. You will no longer have the ability to deploy the old agent types, but have no fear; your previously installed agents will continue to work. The release notes contain all the details you need to know about the switch, please make sure to take a glance at them.
I think that some of the most appreciated work from this release will be the changes that we made to improve management of Agent Managers. On the Agent Manager page you will see that we have added a status indicator (driven by Agent Manager alarms), added the number of agents on each Agent Manager, added the last data submittal time, added HA columns (off by default), and added an option to view disconnected Agent Managers. Several people have already told me that the option to remove old Agent Manager instances from that UI is a winning feature!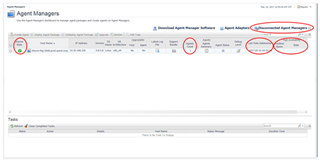 From a platform architecture standpoint, we have upgraded Apache Struts to 2.3.32, upgraded Java to version 1.8.0_121 and upgraded Tomcat to version 7.0.75.
There are a variety of other little enhancements requested by customers including adjusting the search order for LDAP configurations, adding help to user defined portlets and better filtering in the service builder UI.
As always, I would recommend that you read the full release notes to see all the work the team has done.
If you have any enhancement requests you want to share or just want to chat with me, please reach out to me at richard.schiller@quest.com.