Office 365 has three types of identity models for sign-in: cloud, synchronized, and federated. Cloud is the simplest, where users sign on directly. With synchronized sign-in, users are passed through a directory syncing tool and validated. Active Directory Federation Services (ADFS) is a standards-based service that allows the secure sharing of identity information between trusted business partners across an extranet. With ADFS, the sign-in data is securely passed through a firewall to Office 365.
Most monitoring tools are designed to monitor on-premises Exchange, which means that when employees move to Office 365, visibility is lost. Office 365 has some management views built in, but now the data is sitting in a different location. You therefore lose historical data and visibility into any ADFS authentication issues. But what if you need hybrid monitoring – to cover both your on-premises infrastructure and mailboxes in the cloud?
We now have a solution: Foglight for Office 365. If you're already using Foglight for Exchange and Foglight for Active Directory, Foglight for Office 365 offers an easy way to monitor both your on-premises authentication and cloud-based mailboxes through a single, familiar interface. You'll get the benefit of historical data and trending analysis from on-premises Exchange, visibility into ADFS, plus trusted third party validation of the Microsoft ELA.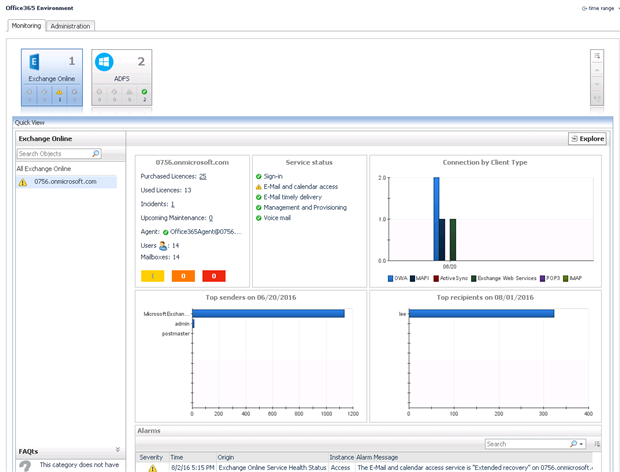 Figure 1. Foglight for Office 365 Exchange Online Monitoring dashboard
The Office 365 data you'll see presented through Foglight includes:
License
Incidents/maintenance
Exchange users
Exchange mailboxes
Exchange online service status/SLA
Client connections
Top senders/recipients
Mail traffic
Mailbox usage
Data loss prevention
The latest release of Foglight for Exchange, 5.7, includes the installer for Foglight for Office 365. Foglight for Office 365 is licensed on a per-mailbox, per-year basis, allowing flexibility and scalability as your needs expand. Foglight for Exchange, Active Directory, and Office 365 are designed to be used with Foglight for Virtualization, Enterprise Edition, so you can get integrated and extended monitoring across your entire virtual environment.