Digital transformations are everywhere, and so are challenges
Digital transformation is creating many challenges for businesses including data platform diversity, IT skills gaps, cost control (especially cloud) and a more complex technical environment that can have performance issues with many possible causes.
Speed, always-on, outstanding customer experience, and cost control are the business requirements driving digital transformations and resulting in performance and risk challenges facing database operations teams.
What are those challenges? A new technical brief covers them, as well as these reasons Foglight is the right choice for a monitoring solutions that addresses them.
Ten reasons Foglight should be your choice for database monitoring
Foglight is the broadest, deepest database and infrastructure monitoring and optimization solution for the hybrid enterprise. Here are 10 major reasons Foglight stands out in the crowd of monitoring tools and helps organizations of all sizes and industries overcome many of the challenges of digital transformations.
1. Monitor multiple database types from a single console
Foglight supports a wide range of platforms with coverage for the platforms you use now, and the ones you'll add in the future. Foglight monitors SQL Server, Oracle and other traditional relational databases, along with open source databases MySQL and PostgreSQL, and others including NoSQL and cloud data warehouse. All of these can be monitored from a single console, the databases dashboard, shown here:

2. Troubleshoot database performance in hybrid environments
Foglight monitors databases in a variety of cloud environments including infrastructure-as-a-service (IaaS) and platform-as-a-service (PaaS), including the Azure SQL family: Managed Instance, Single Database, and Elastic Pools. Here's a full list of supported platforms.
Foglight provides visibility into any performance changes once a database instance has been migrated to the cloud from on-premises. Visibility across multiple cloud offerings is exactly what so many operations teams and CIOs are asking for today.
3. Correlate database changes with performance
Foglight Performance Investigator (PI) visually and intuitively correlates database changes – such as those to instances, databases, servers, schemas and application SQL execution plans – to performance fluctuations. You'll have a place to start digging since Foglight PI presents changes to you clearly on the same UI that you're using for every day performance investigations.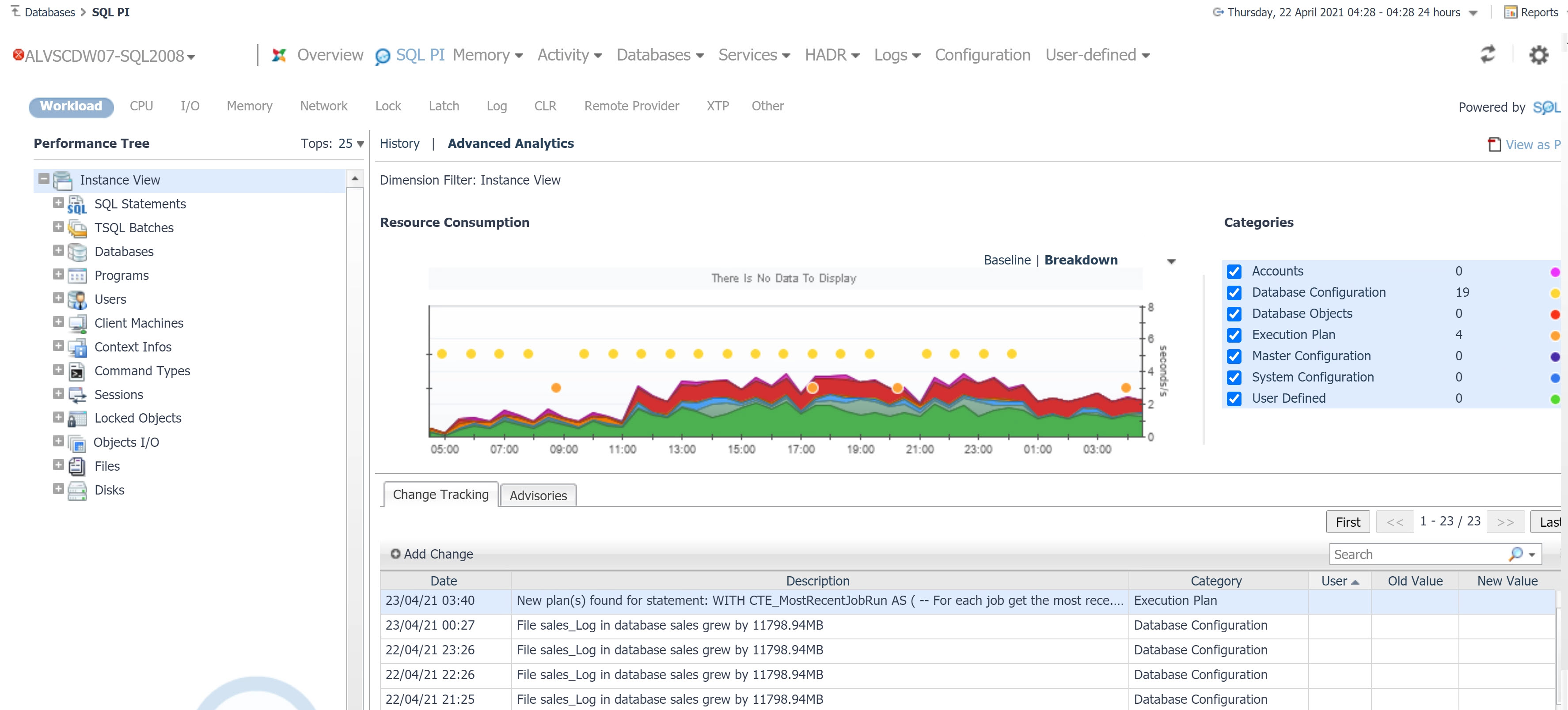 4. Compare time ranges
When there's a sudden slowdown you need to find the cause quickly. Foglight Performance Investigator automates comparisons of performance between different periods of time, again providing a quick list of potential root causes to focus on.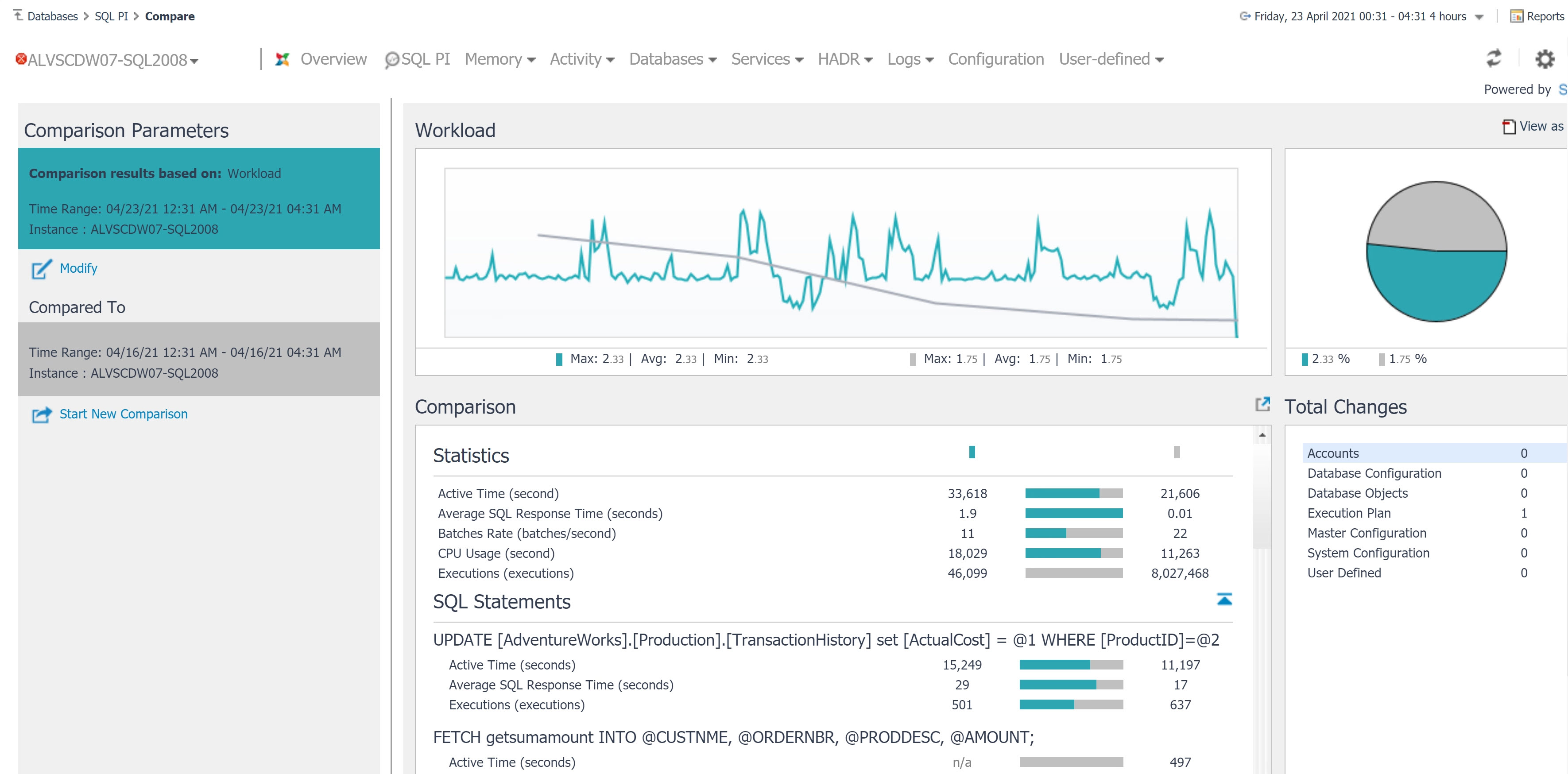 5. Support DevOps efforts
DevOps engineers and application support teams want to know whether performance has changed between a workload running in a QA environment and the same workload running in production, for example. Foglight can compare different instances to one another. If a comparison indicates a performance degradation, the information can be shared with the appropriate team of specialists who can address it and resolve it quickly.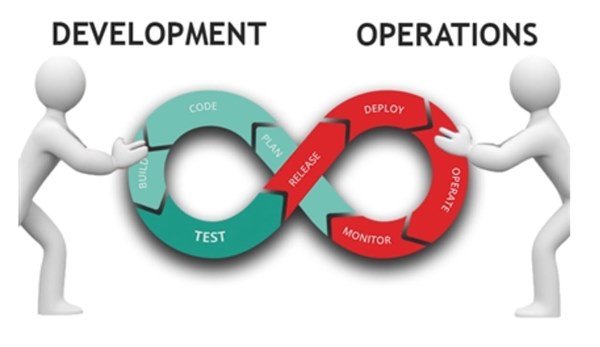 6. Dimensional analysis of workloads
Databases consist of many "dimensions," any of which could be the cause of a problem. These include the database instance, SQL statements, programs or routines, users, hardware, etc. Foglight PI allows an investigator to start their deeper dive efforts by focusing on a given dimension and view interactions and issues from that perspective.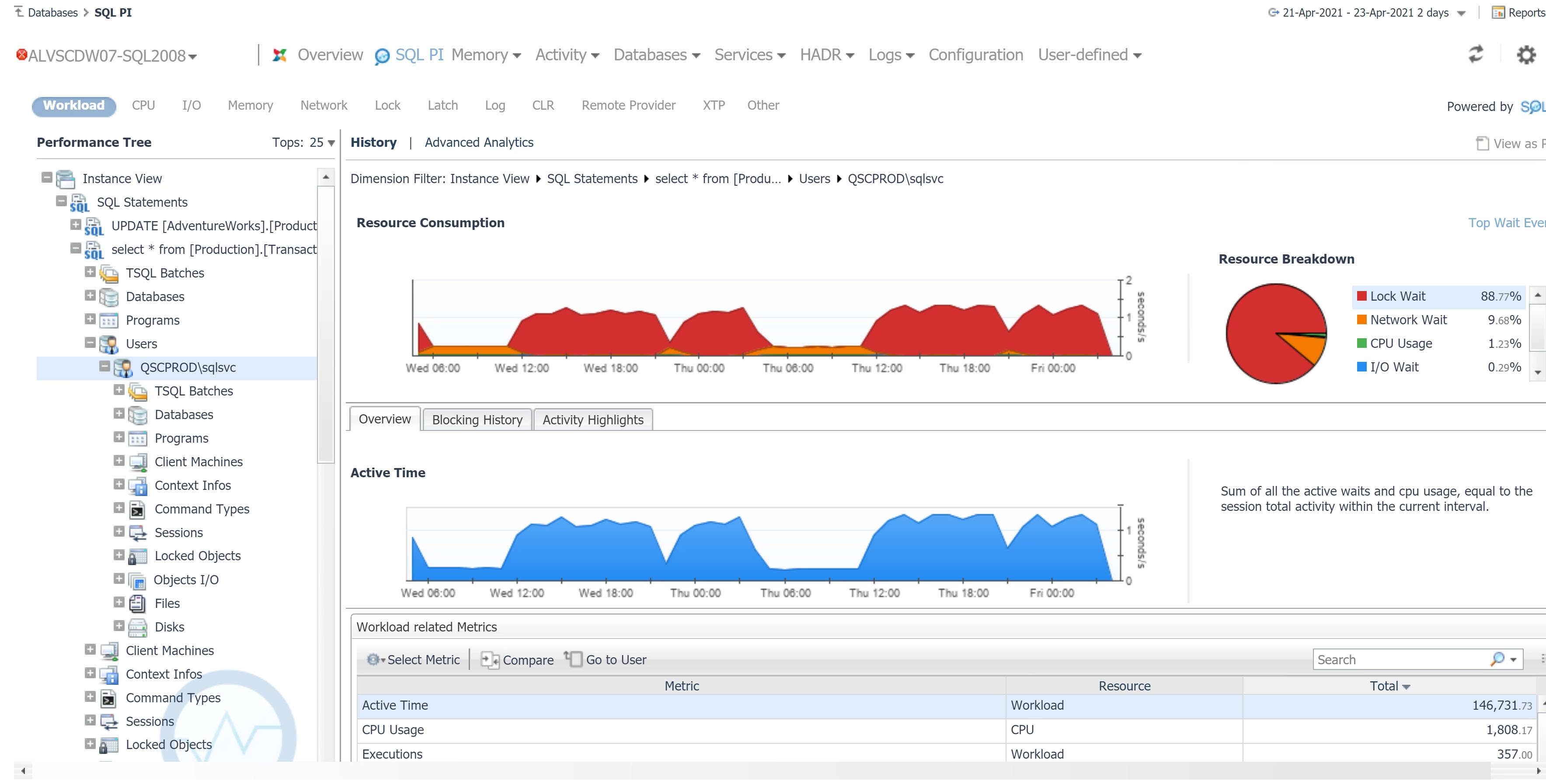 7. Identify database abnormalities via machine learning
Foglight uses algorithms and historical data to calculate normal ranges for key performance indicators. Foglight automatically performs comparisons of actual performance to baseline, and if there is a deviation, the UI clearly shows it and can send an alert.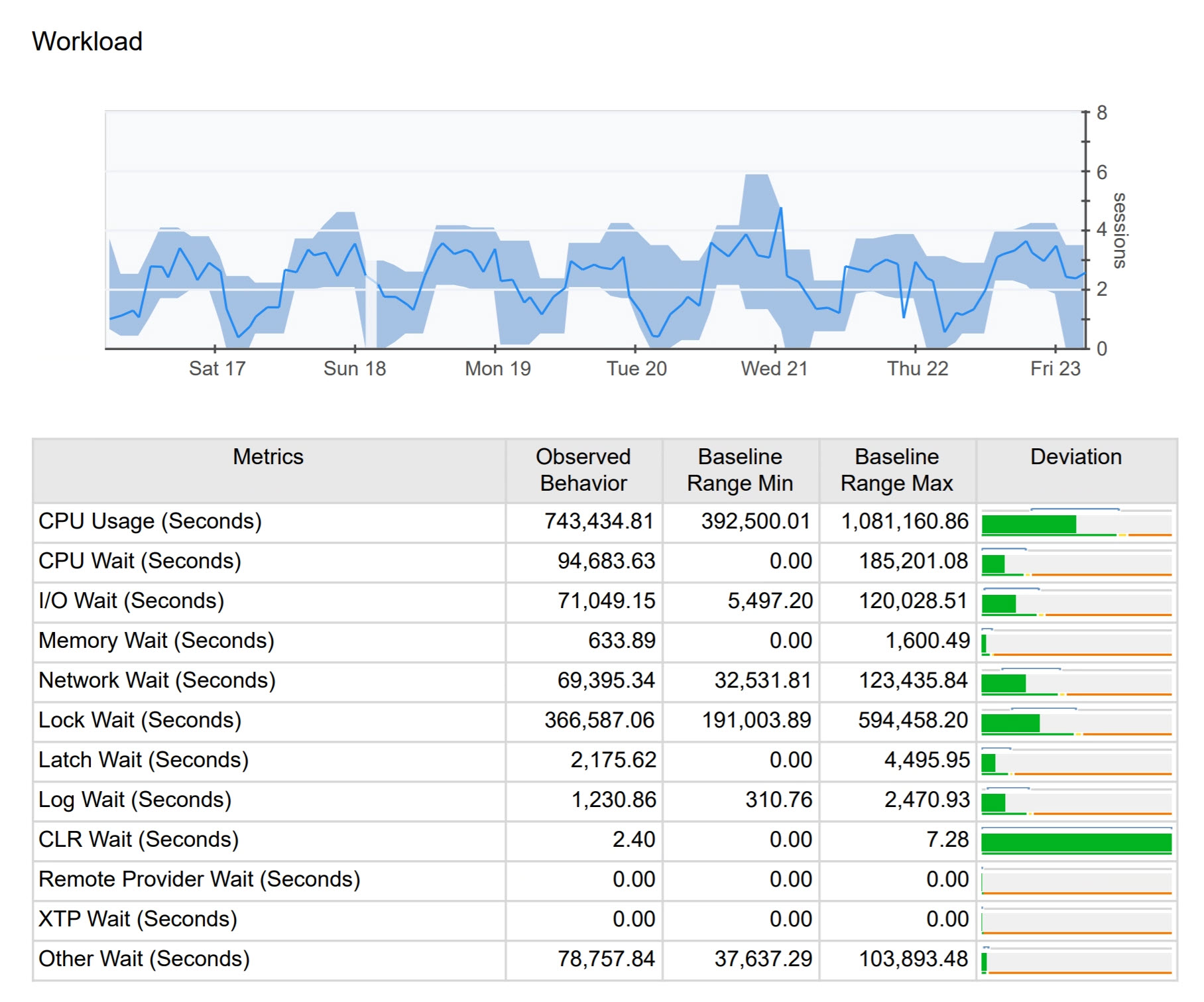 8. Tune the database and its workloads
To help you focus performance tuning efforts, Foglight quickly locates resource-intensive SQL statements, statements that have had execution plan changes with adverse results, and statements that are using more CPU or experiencing long wait time. It also helps you visualize the database process model so you can see where bottlenecks are occurring or where configuration changes might help.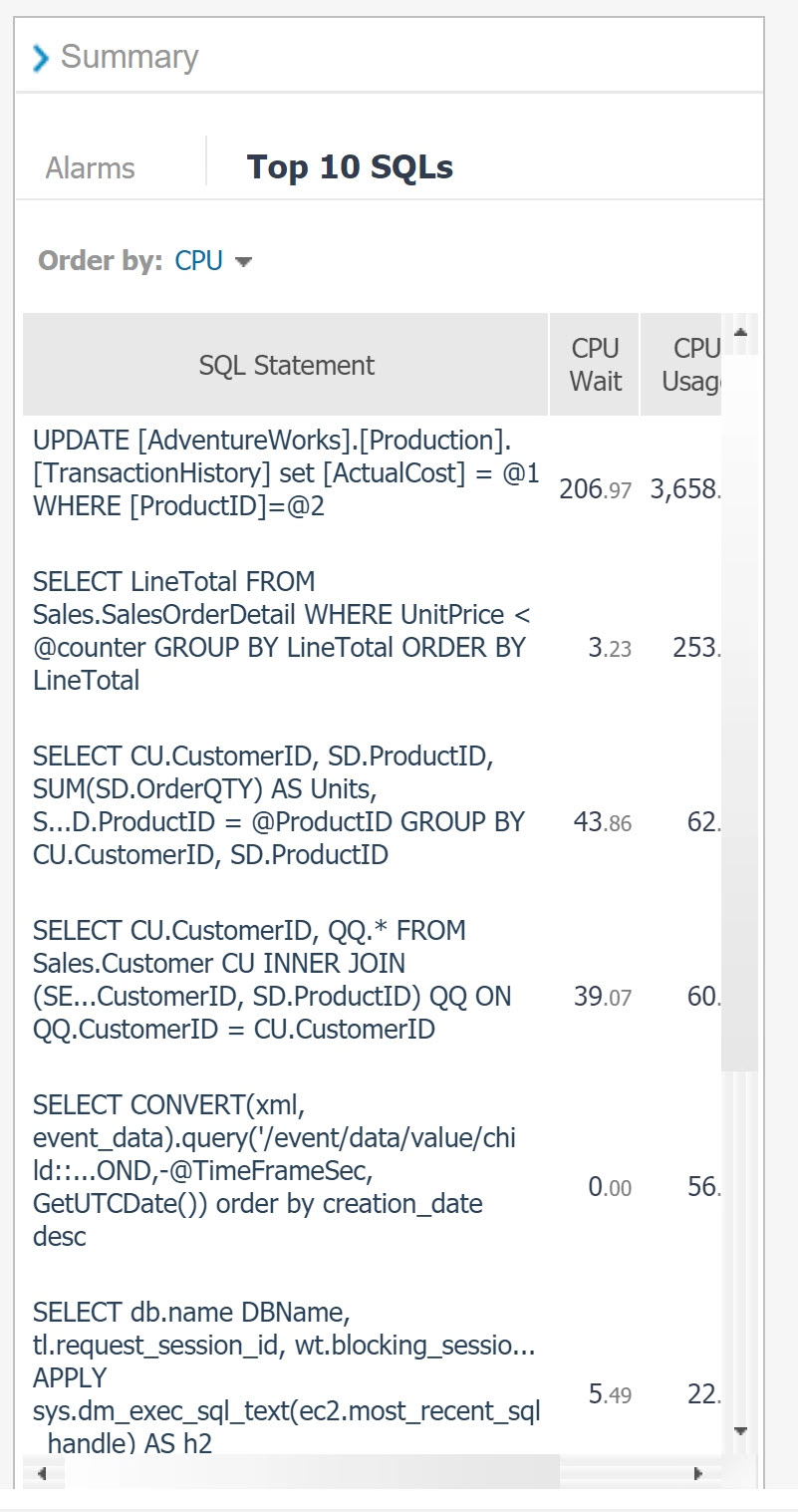 9. Run customizable reports
Flexible and customizable reporting is a strength of Foglight. With the ability to automate the distribution of reports, people around the organization can receive helpful information from Foglight at any time, on any cadence, without accessing Foglight at all.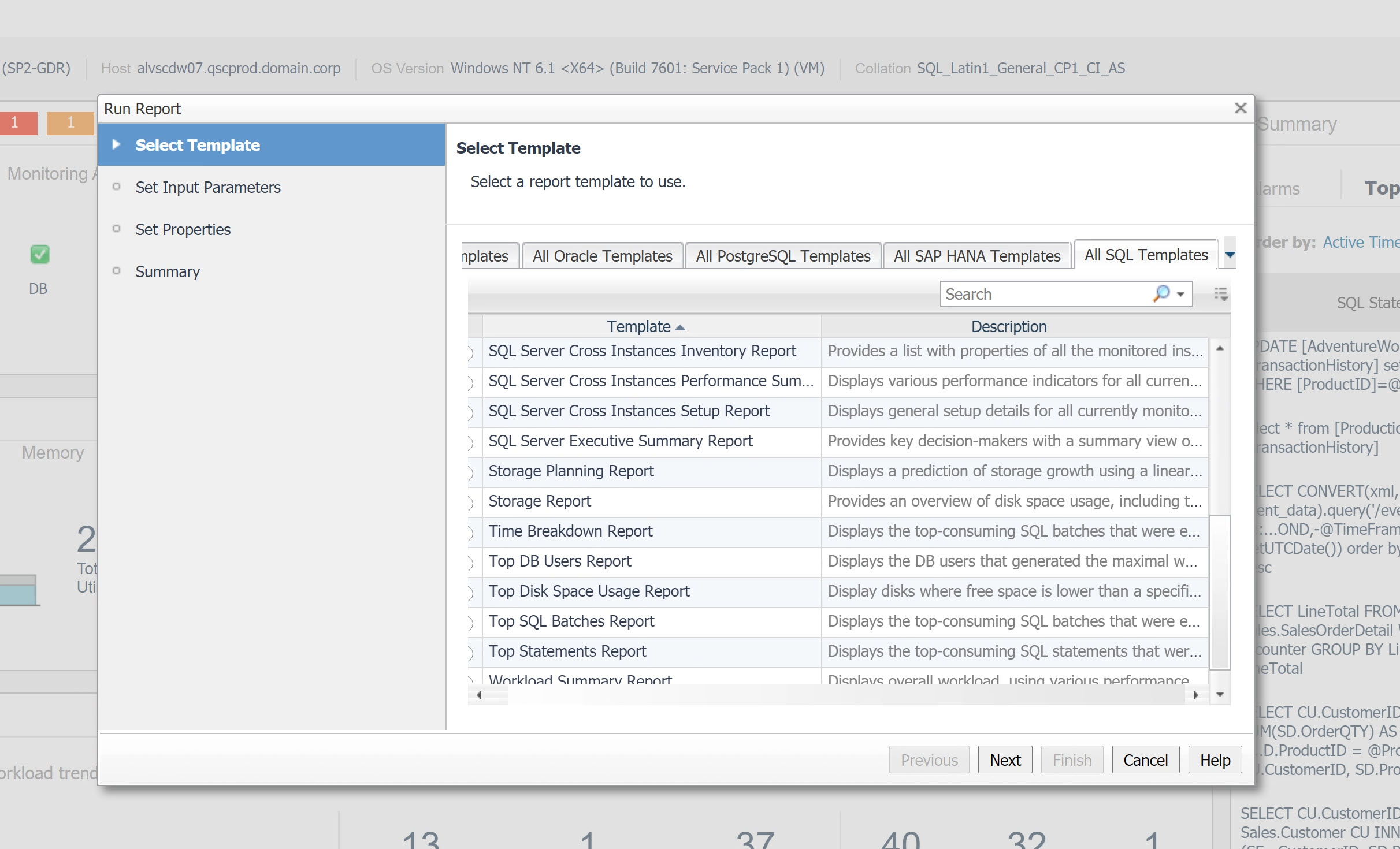 10. Get award winning technical support
"You guys are AMAZING. Every time I have a question someone calls within a couple of hours. We love the tool and the support provided."
"Support has been great. Our account rep has been great. The product is very stable. No complaints."
"Your customer service is excellent."
Quest has been named one of the Top 10 "Best Support Sites" by the prestigious Association of Support Professionals (ASP). Evaluated against a rigorous scoring system based on 25 performance criteria including design, user experience, interactive features, community engagement and more, Quest was recognized for providing the best online support experience for their customers and partners.
Quest also won the Confirmit ACE (Achievement in Customer Excellence) Award in the Voice of the Customer category. This honor demonstrates our exceptional commitment and unique approach to delivering an excellent customer experience.
Summary
Digital transformation, driven by the need for the business to find new ways to be competitive and win, creates opportunities and challenges for IT. Through proactive database monitoring and management, operations teams can ensure that the organization's data infrastructure can support its growth objectives, while controlling costs and improving service levels.
Foglight's extensive breadth across multiple database types and platforms, along with its deep-dive analytics capabilities, automations and visualizations make it the ideal solution for ensuring database health and performance. By enabling operations teams to proactively manage the data environment, Foglight positions operations teams to make a more strategic contribution to digital transformation initiatives.
For more information, please visit the Foglight for Databases product page, here: https://www.quest.com/products/Foglight-for-Cross-Platform-Databases/