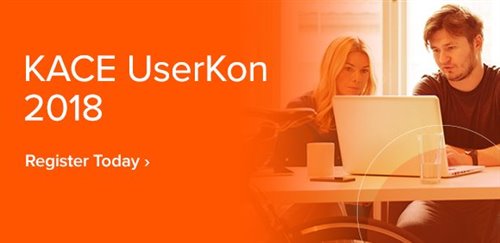 After several years' hiatus, KACE users will once again gather as a tribe. KACE UserKon 2018, to be held in New Orleans May 14–17, looks to be better than ever, with a slew of opportunities to up your systems management game. Long-time KACE customers know what makes UserKon so special, but if you've never joined us, here's why you should:
It's the only conference dedicated exclusively to KACE users. Every session is about KACE: best practices to help you get the most out of your KACE Appliances, technical sessions on KACE, a KACE geek bar, KACE logos around every corner … you get the picture.
Self-paced labs boost your skills. Get hands-on experience with KACE tools. These labs give you a chance to pick up new skills to take back to your organization and actually implement. Impress your boss so you can come back and hang out with us every year!
Networking opportunities help you expand your KACE community. Mingle with other KACE customers over breakfast or lunch, and make connections at our customer appreciation dinner. We think our KACE customers are the best. Just wait till you all meet each other.
New Orleans is amazing. The conference will be centrally located in the French Quarter, giving you plenty of time to grab a beignet or some jambalaya, listen to fantastic live music, and stroll through Jackson Square with your KACE peers.
Register by April 1 with promo code to get $200 off your pass
Laissez les bon temps roulez!