As of the latest update, we've made some enhancements to the Foglight eDocs site to help provide you with a better experience when you search for information.
What's changed?
We upgraded our Search Results page, so your search results will now be better filtered and displayed.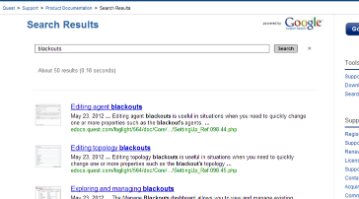 Not sure which version something was documented in? In addition to version-specific and site-wide search, you can now search all versions of a product's docs.
Go to the eDocs home page.
Click Search All Versions for the product you're interested in.

Use the search box on the product page.

We'd love to hear what you think about these changes. If you have any feedback, just reply to this blog post or start a discussion on the Foglight Community using the eDocs category.
Stay tuned for more updates -- or sign up to hear about them automatically
For ongoing updates to eDocs that aren't specific to a product or version, look for posts with the edocs tag on this blog. Or better yet, be notified automatically when we make updates to the site by subscribing to the eDocs RSS feed.