As of the latest update, we've made some enhancements to the Foglight eDocs site to help provide you with a better experience when you search for information. We also have some news on an award recently won by the eDocs site.
Search Engine Upgraded
The Search functionality of eDocs has switched to a new search engine powered by our own Google Mini appliance. This switch will provide more complete search results for all releases of each product on eDocs. The search boxes on each page look the same as before and there's nothing you need to change about how you use search.
The previous search engine worked well but we found over time that it would not completely index all pages of new releases, which meant that as new releases were added, the search engine was starting to omit valid results.
As a quick example of the results provided by the new Search, let's say you want information on "blackouts". If your product is Foglight 5.6.4, search from that version's home page on eDocs: this link would be the results. You can also search for it in all versions of Foglight from the Foglight Documentation Overview page, or even search all products from the eDocs home page - all of which can be useful depending on what you know (and what you don't) before searching.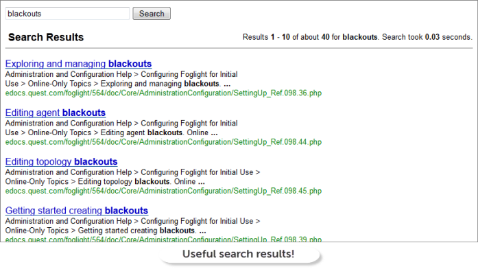 eDocs Site Wins Award
We are also pleased to announce that the Foglight eDocs documentation site recently won the UK Technical Communication Award for 2012. Chosen over seven other entrants by the Institute of Scientific and Technical Communicators (ISTC), the award recognizes the effectiveness of the site in making large sets of product documentation easier to use and navigate.

The judges were impressed by the overall quality of the large volume of documentation made available, and how a small documentation team was able to design and implement a very usable portal to make its documentation accessible to users.

We have posted a special page on the award on eDocs, which includes a rare photo of the team behind it. Check it out at http://edocs.quest.com/common/awards.php.