The NetVault® team is very proud to announce the release of the NetVault Plug-in for Red Hat Virtualization (RHV).
NetVault simplifies backup and recovery for a wide range of systems, applications and data and now adds agentless protection of Red Hat Virtualization virtual machines. Available today from Quest, this plug-in makes it easier than ever for organizations to protect and recover their business critical applications and data running in a Red Hat Virtualization environment.
This continues a sustained period of innovation for NetVault, with the introduction of support for SAP HANA, Nutanix AHV and Microsoft Office 365 Teams in recent months. It follows on the heels of NetVault 13.0 release earlier this year where we introduced a new REST API interface, significantly improved licensing method, and truly synthetic backups.
Our new plug-in for RHV uses native Red Hat tools to protect VMs via snapshots, minimizing the impact to virtual machines that traditional on-host agent backups have. Multiple virtual machines can be selected in a single backup job, and selections can be made at data center-, cluster- or RHV host-level. The plug-in also minimizes downtime by allowing you to restore complete VM images quickly and reliably with minimal interaction.
Unlike other data protection solutions, Quest has developed a unique method to provide differential and incremental backups of the Red Hat VMs, reducing backup windows and storage requirements. And with source-side deduplication provided by NetVault Plus that includes Quest QoreStor®, backup windows and storage are reduced even further, while delivering top level recovery time objective (RTO) performance.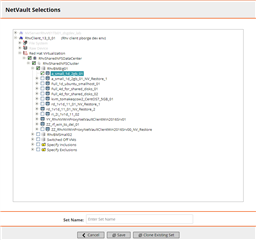 Key benefits;
Increase confidence while deploying Red Hat Virtualization: The NetVault Plug-in for Red Hat Virtualization provides peace of mind because you point-and-click to back up or restore VMs. It increases efficiency by consolidating VM backup management into a single environment.
Automatic integration of backup devices ensures business continuity: The NetVault Plug-in for Red Hat Virtualization supports a wide range of backup devices, letting you store your backup data on disk-based storage devices, virtual tape libraries, or physical tape libraries. It ensures that your virtualized environments are protected and stored off-site for disaster recovery purposes.
Shorten backup windows and improve device utilization: The NetVault Plug-in for Red Hat Virtualization speeds VM backups with high-performance incremental and differential backups for data stored in VMs.