Quest is pleased to announce the release of a new feature that enables On Demand Migration for SharePoint to perform migrations more effectively by carrying out an additional conflict resolution operation during the migration process. If a conflict between source and target data is detected during an incremental migration, On Demand Migration can take action to continue the migration operation.
Please note that this feature will be released in April 2023 and will be available behind a Feature Flag within the On Demand Migration Platform. If you want to use this feature for your ongoing or upcoming migrations from April onwards, please contact Quest Support for assistance, along with the following information:
Quest On Demand Organization ID

Quest On Demand Deployment Region

Name of the Feature Flag to be enabled: migration.sharepoint.conflictresolution
Where can I find this new feature?
Once the Feature Flag has been enabled for your On Demand Organization, and you have started a new migration, you will find additional options in the configuration wizard under "List Options."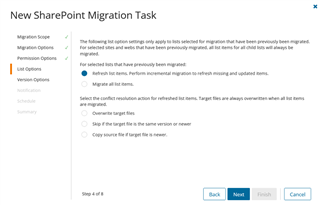 If you are migrating into an existing target location, you can define the migration to perform a refresh of all items within the scope of the current migration task(s). On Demand Migration will then run an incremental migration to refresh missing and updated items compared to the source. With this option selected, you will be able to define conflict resolution in the lower part of the wizard. Alternatively, you can select the migration of all list items. The migration will include all list items and overwrite any changes that have been made on the target, and no further conflict resolution will be required.
If you choose the option to refresh the list items, you can now define the action for conflict resolution. The selected action will be performed if a conflict is identified, and a resolution is required.
Overwrite target files

Skip if the target file is the same version or newer – with this option, On Demand Migration will pull a list of all affected files and compare source to target files based on the unique IDs, dates and versions

Copy source file if target file is newer – with this option, On Demand Migration allows for the source file to still be included in the migration by migrating the source file regardless and appending the filename with a to be selected appendix, as displayed in the screenshot below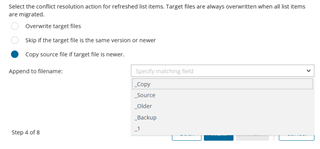 Further Information
For more information on these, and many other Features within On Demand Migration for SharePoint, check out the On Demand Migration User Guide, visit Quest.com or get in touch with myself via Gary.Hughes@Quest.com.