Quest is thrilled to announce the release of a new module, which is, as of the 27th March 2023, part of Quest On Demand. The new module will allow customers to perform On-Premises SharePoint migrations through the On Demand Migration SaaS platform by enabling and configuring our new Hybrid Content Matrix features in On Demand.
Hybrid Content Matrix is able to connect to your On-Premises instance of Content Matrix via an On Demand Agent and allows the user to configure, complete and export the logs of their SharePoint On-Premises to SharePoint Online migrations, completely in SaaS.
Prerequisites
The following prerequisites are required to begin using On Demand Hybrid Content Matrix:
An On Demand subscription that includes consent for Hybrid Content Matrix for the tenant(s) in your organization to which you want to migrate

Content Matrix version 9.7 or later installed and activated. See the Metalogix Content Matrix Advanced Installation Guide for details

An On Demand hybrid agent installed on the same server or client machine as Content Matrix and configured to run Content Matrix as a Service, which allows communication between On Demand and Content Matrix. See the On Demand Global Settings User Guide for instructions for installing an agent
Configuring the Hybrid Content Matrix Agent
Once the hybrid agent has been downloaded and installed, you will be able to configure the On Demand Hybrid Agent. To do so, navigate to Tenants > Hybrid Agents and edit the configuration of your Hybrid Content Matrix Agent.
From this configuration page, you will be able to identify the current status of your agent, including the computer name it has been installed on, the agent status and the connection status. To connect your agent, simply add the "Run Content Matrix as a service"-action from the "Select Actions" menu.
Once the agent is successfully configured, Hybrid Content Matrix will be available as a Migration option in On Demand.
Migration Features & Migration Workflow
To ensure an easy user experience, Hybrid Content Matrix follows the same workflow of a migration as other On Demand Migration modules already available. Starting with the Discovery-Task to gather your desired to-be-migrated Site Collections, SharePoint contents and users all the way to the mapping of these users.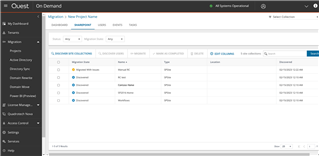 The migration itself also follows the typical workflow of On Demand Migration and removes the complexity users know from the Content Matrix Desktop Installation. By keeping the options simple, Quest has ensured users do not overcomplicate the migrations when moving from SharePoint On-Premises, which is heavily customizable and allows for more complexity in the configuration of SharePoint compared to SharePoint Online.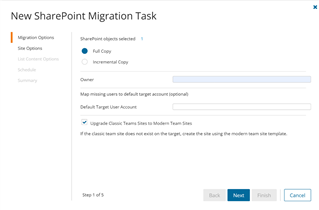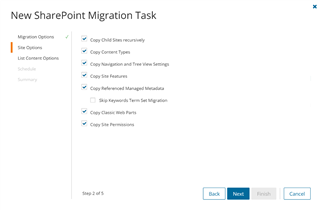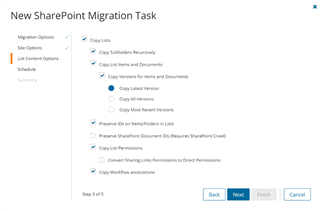 When an option is not available for selection in On Demand, Content Matrix defaults are used.
Task Management & Migration Logs
Given the Task Management is completely managed through On Demand Migration, the same options are applied as with the other migration workloads. Migration tasks can be monitored and managed directly On Demand. Users have the following options:
Track the progress of a task and view the results of finished tasks. When you select a task, the task details pane appears and displays the details the detailed information and statistics of the task

Filter and search to quickly navigate through the list of tasks

Edit tasks

Start, stop, and delete tasks

Download a job log
It is important to note that once a migration job has completed, it is deleted from Content Matrix and all tracking can be done in On Demand Migration Hybrid Content Matrix.
Further Information
For more information on the On Demand Migration Hybrid Content Matrix module check out our Hybrid Content Matrix User Guide, visit Quest.com or get in touch with myself via Gary.Hughes@Quest.com.
You can also find further information on Content Matrix in the Metalogix Content Matrix SharePoint Edition User Guide and our one-pager datasheet with details on ODM Hybrid Content Matrix here: https://www.quest.com/documents/hybrid-content-matrix-datasheet-162556.pdf