Quest is excited to release a new feature within On Demand Migration that allows a migration administrator to easily refresh account details from both the source and target tenants to capture changes to an account's UserPrincipalName (UPN) and Primary Email Address.
This new feature streamlines the process for running the Desktop Update Agent (DUA) when migrated user account details have changed, including supporting changes caused by SMTP Domain Moves.
Refresh account details as needed throughout the migration project
Automatically refresh account details as part of the DUA Switch Applications task
Removes the need to re-run a full account discovery to capture changes to source accounts
Removes the need to re-run a separate account matching task to capture changes to target accounts
How do I refresh account details in my project?
Run the Refresh Selected Accounts task from the Discovery dropdown on the Accounts screen in On Demand Migration. This will update your project with the current UPN and Primary Email Address of the selected source accounts as well as their matched target accounts.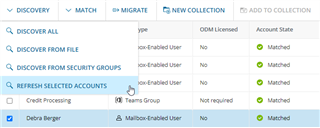 How can I automatically refresh accounts when using the Desktop Update Agent?
When you create a new Switch Applications task from the Desktop Agents screen, you will see a new option to refresh accounts.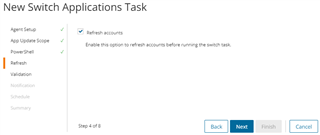 With this option selected, On Demand Migration will automatically create an additional task to refresh the selected account details as part of the Switch Applications task. Both tasks will be shown in the task history as shown below.

Note: With this method, you would not need to manually run the Refresh Selected Accounts task from the Accounts screen.
What is the sequence for running account refresh with a domain move?
The Desktop Update Agent references the account info stored in On Demand Migration at the time the end user runs the DUA wizard on their device, so you should ensure that the correct account details are captured prior to running DUA. The high-level process is as follows:
Complete the Domain Move
Confirm that the updated usernames and email addresses are shown in your source and target tenants
Refresh the account details in On Demand Migration using one of the two methods:

Run the Refresh Selected Accounts wizard first and review the account details in ODM. Then run the New Switch Applications wizard.
Run the New Switch Applications Task wizard and select the option to refresh accounts automatically as part of the task.
Further Information
For more information on this and many other features within On Demand Migration, check out the Desktop Update Agent User Guide along with the complete On Demand Migration User Guide. We welcome your feedback and suggestions below and invite you to visit us at Quest.com.