Summary
When using ODME to migrate from an Exchange platform to an OnPrem Exchange or Office 365, the CPUU utility can be used to update Outlook profiles so that users can seamlessly connect to the new target mailbox without manual intervention.
CPUU is a multi-purpose utility used with Quest Migration Manager for Exchange and ODME. Much of the feature set and documentation is tailored to Migration Manager. Note that Migration Mgr provides a full Active Directory sync, the permissions and the other features (Rules, junk mail settings etc) are not available when CPUU is used with ODME. It is important to note when CPUU is used with ODME, that ONLY the following are updated.
Supported CPUU Features
Switch Outlook profiles from the source to the target Exchange server (Existing Offline folders (OST files) are not preserved)
Update Send/Receive Setting
Rules (see note)
Note: In order for Rules to be updated, the add the legacyExchangeDN attribute value of the target user to the proxyAddress attribute of the source user as x500 address. This must be done manually or via script.
Basic steps.
Designate Source & Target Mailboxes to be migrated.
Download/configure CPUU https://support.quest.com/on-demand-migration-for-email/current/download-new-releases
Migrate Mailbox/ Set option to Update Profile.
Run CPUU on client
Verify results.
Support Reference: https://support.quest.com/technical-documents/on-demand-migration-for-email/current/user-guide/22
Additional software: MSOnline Assistant.
http://go.microsoft.com/fwlink/?LinkID=286152
Installing and configuring CPUU
Install CPUU on a file share. Run configuration utility. Accept the defaults with the following exceptions. On the credentials tab, set the option to Prompt for credentials. i.e. during the update process, the user will be prompted for their credentials.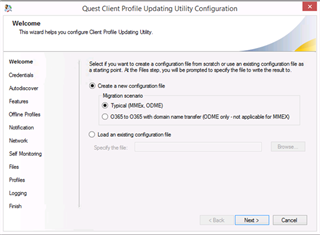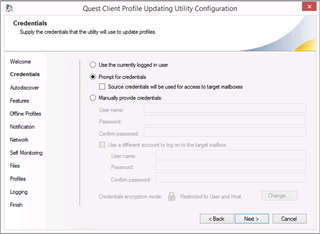 On the Features tab, you can, change the handling of Outlook feature to skip everything with the exception of Send/Receive Settings and Rules, as the rest are not updated with this Migration Scenario.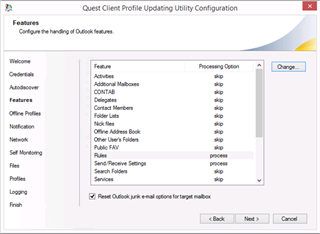 On the files tab, select the Update; Rollback; and Cleanup boxes. Complete the Wizard. Setup login script or map client to network share where CPUU is installed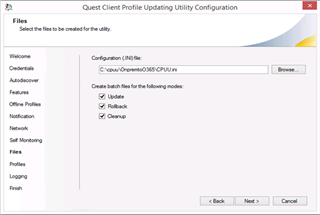 Start the Migration
Follow existing documentation for using ODME. When ready to switch the end user, you must initiate the update from the options tab in ODME. Choosing options, be sure to set the "Enable Outlook Profile Update" on the Outlook Profile Tab.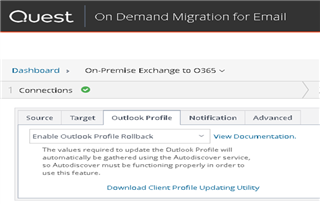 View log, verify switch message was created.

Run the cpuu_update.bat to switch the client.
Note that you can add this to a login script. If the switch message is not found, the utility will exit and make no modifications. The update will only occur once ODME has completed the switch operation (above).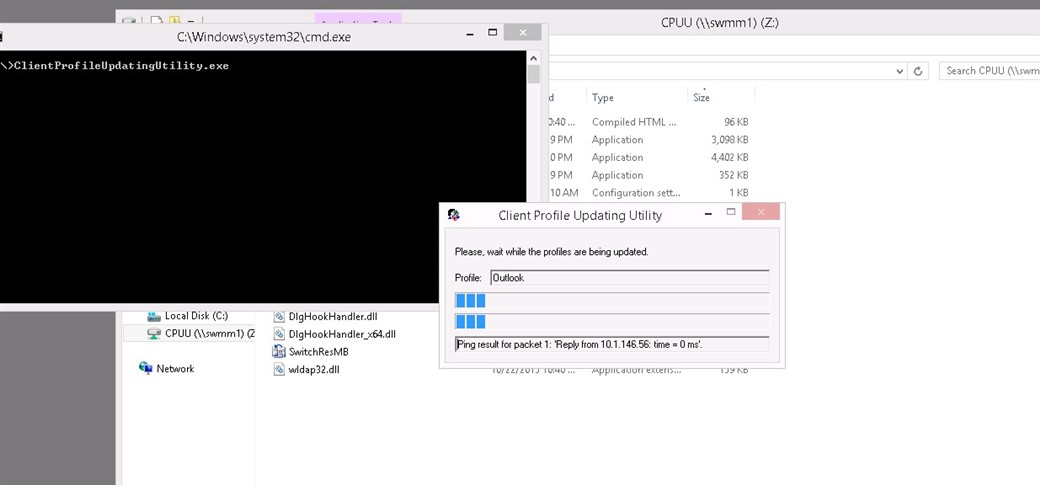 Verify results.
Each time cpuu runs, it will create a log. Check the log for errors. Review Outlook client to verify the profile was updated to connect to the OnPrem Exchange or Office 365 mailbox.