KACE Cloud Mobile Device Manager brings another addition of features and functionality for Q1 of 2020!
App Management
With its new App Update enhancements, admins can use this functionality to manually update app versions and push them to devices. An admin can also multi-select devices from both iOS and Android to see which apps are out of date, and set apps for automatic updates in the future.
IT teams can also use the new app library filters to select and apply multiple filter criteria to pare down a full app library list. These improved filtering capabilities include top-level categories as well as sub-type filters—including:
Apps:

Genre, OS, Publisher, and more
Devices:

Installs and Updates
Policy:

'Any linked' or 'Specific-linked'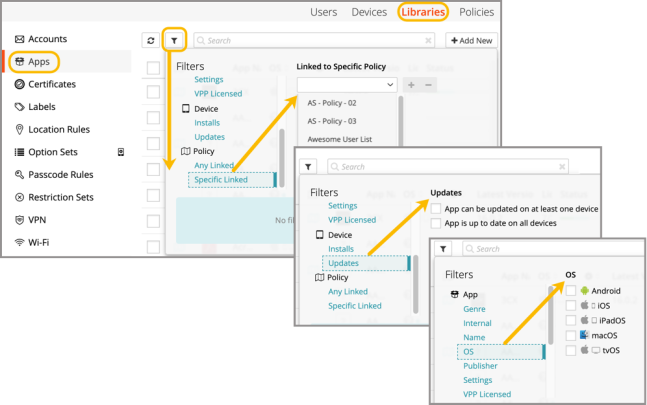 Apple TV Support
For customers that need devices as data display components in briefing centers and conference rooms as well as in work areas such as on factory floors or front desk areas, we have included Apple TV support within KACE Cloud MDM to provide admins the ability to securely and consistently manage those devices.
Our new Apple TV capabilities can be configured and enrolled using one of three processes:
Apple Configurator (AC2)

Apple Device Enrollment Program (DEP)

A combination of the two (AC2 + DEP)
Additional Enhancements
Aside from the features listed above, there were several other items included in the Q1 release for KACE Cloud MDM:
Multi-Forest LDAP Sync Support
The new version of our LDAP Sync Service lets an administrator configure synchronization of multiple active directory forests within a single KACE Cloud MDM tenant. In the previous version of the LDAP Sync Client, an admin can install a single instance across the client and sync the active directory domains accessible through that single instance. With new multi-forest support, an admin can now install an instance of the LDAP client into each forest that they would like to sync with KACE Cloud MDM.
macOS Active Directory Profile Support
This feature lets admins create new active directory configurations in KACE Cloud MDM. It also increases security by allowing admins to give domain users full access to a FileVault-encrypted macOS device using bootstrap tokens.
Option Management
Our new Option Sets feature lets administrators manage both Android and iOS options in the same library space. Previously, options for Android were managed in an Android Options library, which has been replaced by Option Sets.
Be sure to check out the KACE Cloud MDM Product Support page to find solution articles, tips and tricks, documentation, notifications, video tutorials, and a product user forum.