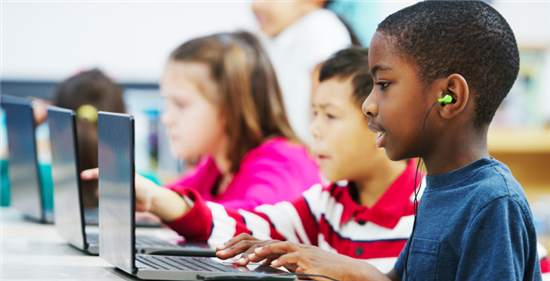 The Rise of Chromebooks
Over the past few years, Google Chromebooks have rapidly gained traction in the U.S. education market. In fact, according to Futuresource Consulting, Chromebooks reached over 50 percent of U.S. K-12 sales for the first time in the third quarter of 2015, with 1.63 million units sold (51 percent of all sales).
A number of factors have contributed to this rise of Chromebooks. Many districts have needed to implement online assessment and meet the requirement that all devices need keyboards. Chromebooks fit the bill on both these counts, and offer a wealth of additional benefits as well, including:
Affordability — Chromebooks can be the most inexpensive way to put technology in the hands of students. Futuresource Consulting notes that the attractive price points (typically $200-230) has resulted in Chromebooks "effectively cornering the 'entry level' of the K-12 market (for non-tablet purchases)."
Ease of use — Students can just flip open the device and get to work. Plus, almost all Chromebooks have exceptional battery life, and users can share a Chromebook simply by switching between accounts.
Security — Chromebooks are kept up to date automatically, so users always have the latest virus protection. And since no data is stored on the device, there are no security concerns if it is lost or stolen.
Easy deployment and management — The Chromebook management console provides a broad range of functionality in a web-based interface.
Microsoft and Apple are Not Conceding the Market
Despite their increasing popularity, however, Chromebooks are unlikely to completely displace all their competitors any time soon. Futuresource Consulting notes that Apple and Microsoft both have significant ground to make up, and are working to do just that: "Microsoft is making strong moves, developing a partnership with Lightspeed to address device manageability, whilst bringing new devices to market which are likely to compete head on with Google in the key sub $300 range…. We envisage that the summer buying season in 2016 could be incredibly competitive with an OS price 'war' taking place."
IT Must Take a Broader View
As a result of this continued battle for the device market, IT admins cannot afford to focus exclusively on any one platform. In fact, they must take an even broader view. EdNET Insight's "State of the K-12 Market 2015: Executive Summary" points out that laptops are actually still the most widely deployed student device, having been substantially implemented in 52 percent of districts, as compared to Chromebooks and tablets, which have been substantially implemented in 37 percent and 35 percent of districts, respectively. (Interestingly, the study notes that "substantial implementation varies little by district size, but there are notable differences by district type. Urban districts are the leaders in Chromebook deployment, with 49% reporting substantial implementation, followed by suburban districts at 40%, town districts at 31%, and rural districts at 34%.")
What's more, IT administrators cannot limit their view to just the devices used by students; they also have to manage a broad range of servers, PCs, Macs, printers, networking gear and other connected non-computing devices. In short, educational institutions today have a mixed bag of hardware and operating systems, and administrators, educators and students are perpetually on the cutting edge of technology. It's up to IT admins to stay on top of this diversity and manage the entire breadth of their environments appropriately.
While device vendors offer a variety of endpoint management systems, juggling multiple tools — no matter how good any one of them might be — is not a workable approach when you're dealing with hundreds or thousands of endpoints. Educational IT admins, even more than their counterparts in other industries, need a comprehensive, easy-to-learn and effective tool that simplifies a range of management tasks across their diverse and constantly changing environments, which are increasingly likely to include Chromebooks.
Fortunately, there is a single pane of glass that will help you manage all devices at your educational institution, including Chromebooks: the KACE K1000 Systems Management Appliance. If you'd like to learn more about the rise of Chromebooks in the education market and how you can manage them alongside all your other network-connected devices, check out our new tech brief, "Educators Love Chromebooks. Now IT Admins Will, Too."