Email is an extremely important method of communication for any size business. As business needs change, so do email infrastructure requirements. On Demand Migration for Email (ODME) is a cloud-based migration service that is able to scale to meet your migration requirements "On Demand". Whether you have a small business with a handful of users or a large enterprise with thousands of users, ODME will allow you to migrate your mail, calendar and tasks (depending on source mail system, see the ODME System Requirements for additional details) without the usual burden of on premise migration infrastructure, which is required for a typical migration project. For added convenience, the ODME online portal allows you to configure, start and monitor a migration project from anywhere in the world!
1.) Enter Source and Target Connection information: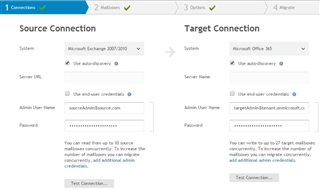 2.) Create a list of users to be migrated:
Note: Users can be added in bulk by uploading a TSV file.

3.) Select the items to be migrated: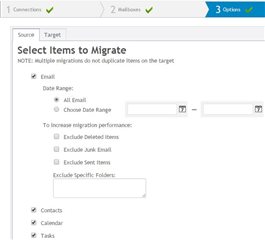 4.) Migrate!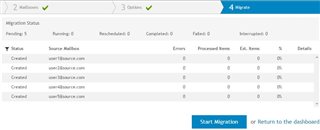 Start your On Demand Migration for Email trial by visiting the portal in your local geographical region:
Americas: https://migration.ondemand.quest.com/
Europe: https://migrationeu.ondemand.quest.com/
Asia: https://migrationapj.ondemand.quest.com/
Don't forget to come visit us on the On Demand Migration for Email discussion forums!