This is an exciting week for those of us on the Foglight team here at Dell World and Dell World Software User Forum 2015 in beautiful Austin Texas!
We have 13 sessions at the Software Forum portion of the conference dedicated to Foglight Performance Monitoring. One of the sessions I"m most excited about covers a new feature we added in Foglight for Virtualization 8.3 that now pulls in server data from Dell OpenManage Essentials (OME). With this release, when you look at your VMware ESX hosts, you can now get detailed information on the servers themselves. Our goal for doing this was twofold. One, we wanted to provide a "VM to Server" view just as we do today with Foglight for Virtualization and Foglight for Storage Management that gives you a "VM to LUN" view in order to resolve performance issues. Secondly, we wanted to provide value to OME via the following:
- Provide historical data
- Consolidate alarms
- Deliver per-defined reporting
How it Works
Once you do a quick setup by defining the OME management server (s) to Foglight, you will see the ESX hosts that are running on Dell Servers with OME:
<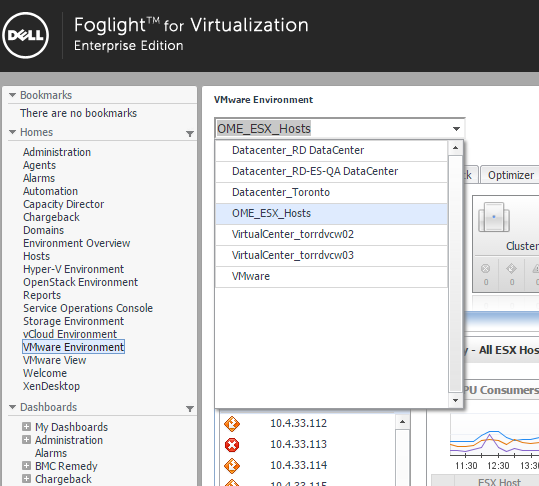 Then, from the host view, as you can see from the screen capture below, there is a new Hardware tab that gives you valuable information on the OME managed Dell Server..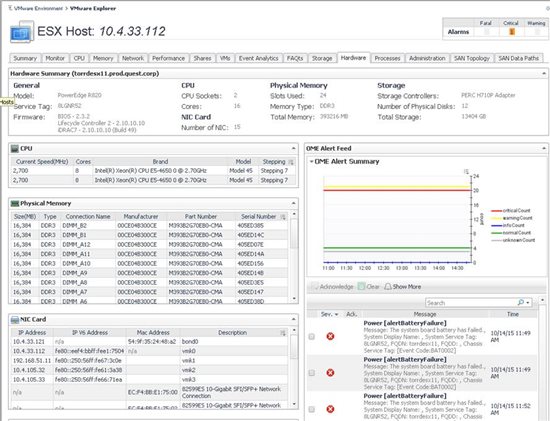 Unfortunately, the screen capture doesn't show the complete dashboard, but we have incorporated the following:
- Detailed server data including CPU, Physical Memory, Controller, Physical Disk Storage, NIC Card, Device Card and Firmware
- An alert summary (note, we will consolidate one general alarm in Foglight to represent a collection of OME alerts to avoid excessive alarm notification)
- Trending of the types of alarms issued
Also note that we added some relevant hardware data to the host view, including a link to OME itself.

This is really the first step in OME integration. Future releases will incorporate change tracking and analysis (a feature we added for VMware in Foglight for Virtualization 8.0 earlier this year) along with analytics data to spot trends with your hardware. That said, I don't want to forget to mention some other new features in Foglight for Virtualization 8.3, specifically around Citrix XenDesktop and XenApp. We have added the following new feature (We'll cover in more detail later on).
- Storefroint monitoring and analysis
- Unregistered VDA (Virtual Desktop Architecture) monitoring
- License usage monitoring / reporting
- New session explorer view showing detailed metrics on latency and resource utilization
As you can see this is a big release and our third feature release this year of Foglight for Virtualization. We'll have some more blogs that go into the Citrix improvements along with some vSphere 6 specific features.