We are very proud of our Web Parts for SharePoint, as they have enabled customers to quickly and easily create literally thousands of SharePoint applications and deploy them into some of the wildest implementations out there. They are uniquely engaging in how they bring application development functionality to those who don't always identify themselves as developers, but we know we can do more to get you folks up to speed. Deceptively easy, there is a lot happening under the covers and we need to expose that to you as well!
So, in Web Parts version 5.7 we have introduced even more options to ramp up quickly and dig into all the features of our Web Parts. When a Web Part is inserted into any page you will now see four training options as well as the usual ability to dive right in with ezWizard or ezEdit.

Every Web Part now has a great starter video that will walk you through the core setup options and some of the unique features of any given Web Part. This is a great place to get dip your feet into the waters and see if you need to go even deeper.
More in-depth training is the cornerstone of any truly successful SharePoint application roll out and again we have made your options crystal clear and easy to consume. If you are the self-s tarter type there is a full Computer Based Training (CBT) that includes more videos and labs to allow you to do self-paced training at your convenience. This option is free of charge so there is little barrier to getting started here.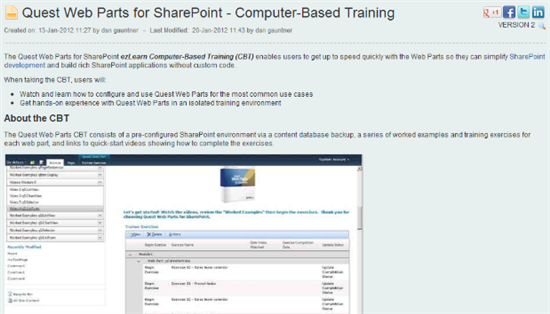 For those who want to really want to perfect their Web Parts skill we have a link to one of our core Web Parts training partners, DevWorkz.
I'll let John Ackery, Founder and Director of our training partner DevWorkz explain why you may want to pursue this option.
"For the past five years Devworkz has been in the business of helping customers and partners unlock the value of Quest Web Parts (QWP) in the context of 'no code' rapid application development in SharePoint. In 2011 we made a significant investment to further enhance our training offering. Here are some facts about what we offer today.
Our training platform is cloud based which gives us enormous flexibility to provide custom targeted options for customers, partners or members of Quest's Professional Services team. Training can be accessed on a 'one time' use case, or, via an ongoing subscription model. We offer a range of training formats that can be instantly provisioned from the cloud for A) Self-Paced, B) Self-Paced with support, C) Virtual Classroom and E) Face to Face training. Options 1 and 2 principally cover content for the core configuration of the web parts. Options 3 and 4 build on this capability by adding a growing number of extension sessions (we call this our Premium content) which in our view is where the real value of QWP is realized. Premium content covers topics such as the 'architecture of an application', 'advanced form configurations', 'relational data design', 'SAP integration' or using Quest Deployment Manager for updates & changes.
Our platform has the option for training on either Foundation Server 2010 to Enterprise with scalability for 10's to 100's or even 1000's of users. The platform is always been updated and is kept in sync with the current release of QWP, now on 5.7. On a quarterly basis we add 'worked examples' and exercises that reflect new features and other design configuration options.
We can also provision training options for the migration and re-composition of Lotus notes applications. Currently under development is a new module for Nintex Workflow 2010 and how it can also be leveraged with QWP. Look for this in the coming weeks."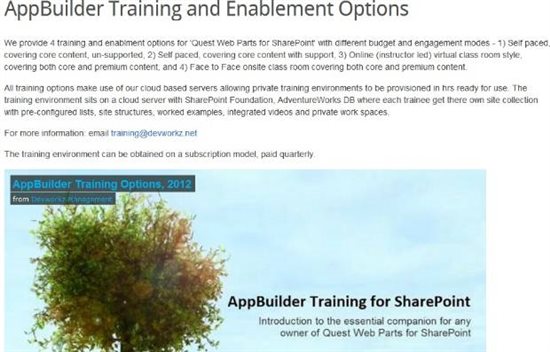 It you need even more information on these deeper training options please head over to their web site at http://www.devworkz.net/training.html or email them a ttraining@devworkz.net. There is also the option to give them a ring at +1 303 800 4155 for a chat.
Finally we know sometimes you just want to ask a Question, and this is where our active Customization discussion group over at "SharePoint For All" can help. Click on this final link to be taken directly to the discussion area and enter your question. You may find that somebody already asked and the answer you are looking for is there anyways.
Response time varies but Quest hangs out on this site as well so you should have some response in a few hours.
So there are fewer excuses now to delay starting down your path to application awesomeness!!