Day 1 of the Microsoft Ignite conference is in the books. I was working our booth (#1210) all day from noon to 7 p.m, and I must say the excitement never slowed. We talked all day to customers and partners about our solutions for Active Directory, Office 365, Skype for Business, Exchange and SharePoint.
One thing that excited me was how many existing customers came up to us and raved about our tools, whether they were using Toad, Migration Manager for Active Directory, Recovery Manager for AD, Change Auditor, Active Administrator ... you name it!
We had HUGE crowds right up until the end as you can see here in the picture. What a great first day!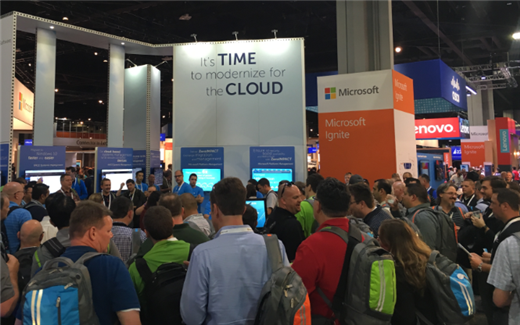 I'm ready for Day 2.
We'll be doing live demos of our Microsoft Platform Management solutions again and we'll also have an espresso bar!
I also wanted to let you know that today from 4 p.m. to 5:15 p.m. Microsoft will demo our own UC Command Suite at Breakout session #3409 - Manage Skype for Business with a Single Pane of Glass. The session is in room C112. If you're deploying Skype for Business or trying to measure the ROI you're getting from UC systems such as Cisco, Skype for Business or Lync Server - then you should check out this session!
One way or another, we hope to see you at MS Ignite today!