Finally, the moment you've been waiting for: the Foglight quarterly maintenance release! That's right, Foglight 5.7.5.5 was released on July 14 with a focus on customer-raised bugs, general quality of work, Foglight Management Server performance and ease of management.
Key updates or changes delivered in this release include the following:
Last Submission Time. To help customers validate that their agents are not only running but also able to submit data, a new column called "Last Submission Time" has been added to the Agent Status dashboard.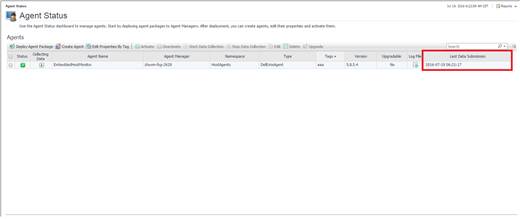 JVM Options. Customers who wanted to update Java virtual machine (JVM) settings (such as for memory or debug settings) have historically had to modify the server.conf file on the Foglight Management Server host. In Foglight 5.7.5.5, we have added a JVM Options field into the Management Server Configuration UI.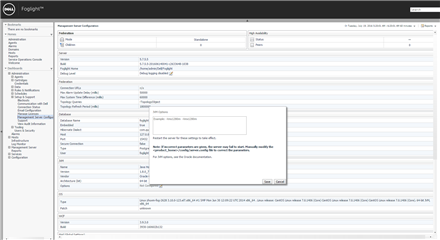 New default time range. In Foglight, the time range is configurable on a per-user basis. In prior versions, users who did not have a time range configured automatically received the default of four hours. As of this release, any user who does not have a time range preconfigured will receive a one-hour time range.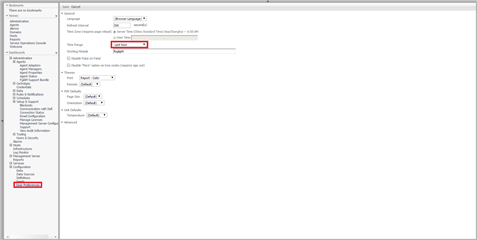 If you would like to customize the user time range, you can do it here:
Several new items and changes in this quarterly maintenance release may not be as obvious, but you may still find them interesting:
Reduced Foglight Management Server memory usage. Changes to how we deal with topology have shown a decrease in Foglight Management Server memory usage by as much as 20 percent or 30 percent. This reduction will create more headroom in the heavily loaded Foglight Management Server and is expected to improve UI responsiveness for memory-bottlenecked servers.
Modifiable service-based email templates. Based on a customer request, we made basic email modifications possible. However, we haven't finessed the user experience. First, we want to get feedback on what types of changes most customers want to make, then we'll work to simplify the process for making those changes.
We left this feature undocumented for the moment, but it is possible through a mechanism of creating and importing a new XML template and changing a new registry variable.
Our customers are important to us, and we are working hard to deliver improvements based on expectations and desires. If email template modification is a feature that you find interesting and would like more information on this feature — or if there are other features that you might find helpful — please contact me at richard.schiller@quest.com.