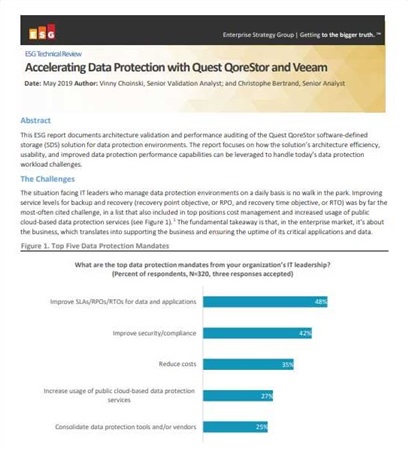 With exponential data growth, you're probably dealing with slower backups and out of control storage costs. Everyone's going through this, regardless of the data protection solutions they are using.
If you happen to be using Veeam Backup & Replication, there's an easy way to remedy these issues. Quest QoreStor helps accelerate Veeam backups by more than 50 percent, while reducing backup storage by more than 95 percent. That's pretty significant!
If you haven't heard, QoreStor is a software-defined secondary storage platform that we've qualified and tested with Veeam Backup & ReplicationTM and that is now verified as a Veeam-Ready Repository.
What that means is QoreStor complements your Veeam environment and helps you complete backups faster, reduce storage costs and get to the cloud faster and safer for archiving and disaster recovery.
QoreStor actually supports most backup software solutions, including Quest's own NetVault Backup and vRanger. So, no matter what backup solution you use, QoreStor helps you lower costs and maximize the return on your IT investments. In fact, you can use QoreStor with basically any storage hardware, virtualization platform and cloud provider.
Want to learn more about how you can accelerate your Veeam backups and significantly reduce storage requirements and costs? Leading IT analyst firm ESG breaks it all down in this report.