"I want solid data protection for Exchange Online, and I want to simplify it. Is that too much to ask?"
Certainly seems that way. Most of us in IT have trouble putting "data protection" and "simplicity" in the same sentence.
Like a bank vault, backup and restore should be robust enough to protect your data through outages, natural disasters, cyberattacks, user errors and all the adverse things that can befall your organization.
But, as you can see in the photo, backup and restore should also be simple enough to allow (almost) anybody in your company to protect your data and get it back quickly should the need arise.
Protecting Exchange Online with enterprise backup solutions
Of course, what's happening more and more is that the data you want to protect is in the cloud. For that matter, your backup destination — the vault in the photo — is in the cloud as well.
Take email, for example. About 1.2 million companies use Exchange Online, which has almost two-thirds of the market. Exchange Online is hosted on Microsoft servers, and all of your users go through Exchange Online to receive, read and send their email. That relieves you of the pain of buying, installing and maintaining all of that software and hardware.
But here's the catch: You're still responsible for backing up your Exchange Online data and protecting it.
Microsoft provides retention for various periods of time, but it's not designed as the kind of data protection most IT managers are accustomed to on premises. Your users can still lose email messages and data from Exchange Online, whether through their own error, malicious activity or because the content simply ages off. To comply with regulations and reduce the risk of data loss, you may need to maintain backups for longer than the thresholds offered by Microsoft Exchange Online protection. You may also want to store multiple copies for disaster recovery.
Despite that catch, entrusting your company's email to the cloud is still a good idea, especially if you also use the cloud to implement Exchange Online protection. It makes good sense to move both your email and your data protection to the cloud; in fact, 90 percent of organizations plan to use cloud as part of their data protection strategy sometime this year.
Simplifying Exchange Online protection with NetVault® Backup
You might think that it's difficult to implement data protection for cloud assets like your Exchange Online email and on-premises assets like your core applications.
Well, it used to be, and we got tired of that. So we figured out how to simplify enterprise backup and restore with NetVault Backup. We've put together a technical brief on NetVault called Enterprise Backup and Recovery Made Easy that covers the data protection issues of greatest importance to IT managers:
Simple installation, simple navigation and simple maintenance
Architecture that enables you to install and configure only the components and plug-ins you need
Protection for all of your applications, databases, operating systems and storage technologies (including cloud)
Distribution of virtual backups across multiple clients from a single, unified view
Multistreaming that backs up unique data streams simultaneously
Also, here's a peek at an infographic we've put together on the top considerations for protecting Exchange Online (click on the image to view the entire infographic):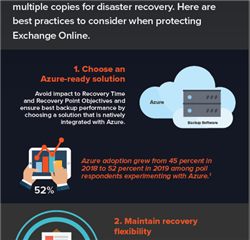 Learn more about the simplicity of NetVault and its robust Exchange Online protection. It's a solid combination you'll be glad to have in your strategy for backup and restore, as well as for disaster recovery.
(Please note that the child in the photo is a paid professional. Do not allow your toddler to play in or around bank vaults.)
Show Me the Simplicity (Tech Brief)
---
Photo credit: Cameron Conner, CC 2.0