Celebrating the 25th Anniversary of SharePlex
This post shares some highlights from the SharePlex 25th anniversary webcast that was held last month. In this celebratory webcast, five long-time Quest staffers shared their experiences in a round table discussion of how Quest customers have used SharePlex over the years and how they continue to rely on it today.
The webcast was moderated by Rick Schiller, who is the current product manager for SharePlex and has been in that role for the last five years. The other long-time Quest staff members included Ales Zeman, a sales engineering manager that has been working with SharePlex for over 20 years, Clay Jackson, a sales engineer that has been assisting SharePlex customers for the last six years, Michael Luu, a software engineering manager working on SharePlex for over the last 10 years, and Melanie Kacerek, the original and first product manager for SharePlex.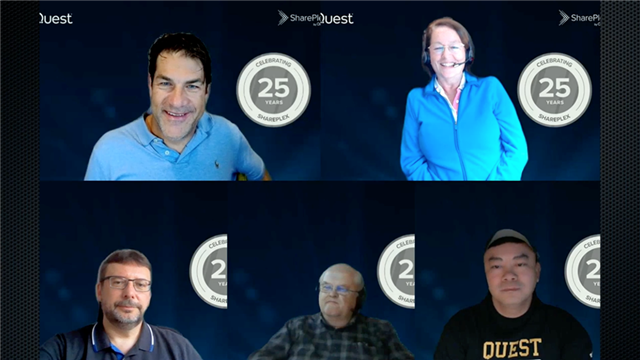 Why SharePlex was developed
SharePlex was launched in 1998 in response to market conditions and problems that existing replication solutions for Oracle databases could not solve. At the time, the existing software and hardware replication solutions were limited and had flaws.
The legacy software-based solutions worked entirely inside the database, which resulted in additional performance hits on the production database. As a result, it was killing the database instead of offloading reporting. Additionally, the software solutions did not support the data types commonly used in applications like PeopleSoft or Oracle Financials. Beyond the software-based solutions, the hardware solutions did not replicate logically, but physically, which would replicate data corruptions as well.
In a nutshell, the software and hardware solutions that existed at that time, did not provide the capabilities that customers needed. There were many different use cases that were not supported such as replicating out of a danger zone or needing a viable reporting instance.
The initial use cases
Quest aimed to provide the SharePlex replication solution based on the redo logs that could capture all the transactions and replicate them. And not only the business volumes of data but also the context of those transactions.
SharePlex was the first to market with this logical replication solution that could provide a trustworthy and accurate replica. The core design of SharePlex was contributed to by experts who had written the book on how to tune and optimize Oracle, making it a powerful replication tool for Oracle databases.
Customer success stories with SharePlex
Below are a few summarized versions of the customer success stories that were shared in the webcast.
A European railway migrated their online booking and reservation system to a new data center
A railway in Europe needed to migrate their online booking and reservation system based on Oracle to a new data center with an upgraded version of Oracle. The online booking system was critical for all ticketing and reservations, so, any downtime would have resulted in millions of Swiss francs lost. With SharePlex, the migration was completed with only two minutes downtime for the database and ten minutes for the application. The migration was successful due to the capability of SharePlex to minimize downtime and recover data quickly. The use of other Quest tools like Toad also helped troubleshoot issues during the migration.
Hotwire.com migrated their booking system from on-premises to the AWS cloud
Hotwire.com successfully migrated its Oracle-based hotel and vacation package booking system from on-premises to the Amazon Web Services (AWS) cloud using an active-active data replication architecture. They refactored their application, changed the backend from Oracle to Linux, and moved to a new version of the database. Hotwire set up two data center stacks with a load balancer in the front and used SharePlex in the backend to replicate the data coming through. With this setup, they could roll forward or roll back without any downtime and with complete flexibility. This approach de-risked the migration process and helped Hotwire solve any problems immediately.
An Australian energy broker maintains high availability for their energy distribution system
An energy broker in Australia uses an active-active architecture to maintain high availability for their Oracle-based energy distribution system. The energy broker recognizes the risks associated with downtime and understands that every minute they do not provide necessary data for energy distribution, it will cause significant losses. The active-active architecture provides continuous operations and is powerful for both migrations and constant operations.
A medical research facility segregates Oracle data and migrates it to Postgres for analysis
A medical research facility uses SharePlex to strip personal data from clinical data to enable the analysis of the medical data for scientific research. When COVID-19 hit, the facility's use of data increased dramatically, causing a scaling problem. To resolve this issue, they used SharePlex to separate COVID-19 data from other clinical data and migrated it to a separate Postgres database, which researchers could access without violating privacy. The project was completed in six weeks and proved to be a crucial tool in the fight against the pandemic, showcasing the potential of data management in medical research.
A federal agency streams Oracle data to Kafka and Postgres for analysis and reporting
A large federal agency had traditionally only streamed data to file, but customers wanted access to the data stream. So, they moved into JMS and eventually Kafka to expand the use cases for the replication stream of data. Today, they also have Postgres as an endpoint for analysis and reporting.
Other customer use cases for SharePlex
Enabling databases to be moved across platforms and to data warehouses in the cloud
Moving data and databases across different platforms and to data warehouses in the cloud can be challenging. This has been an ongoing problem that has become more complex due to increasing demands for real-time data and the adoption of new platforms like Snowflake. Many organizations are reworking their data pipelines and warehouses to keep up with these changes, which requires a significant amount of effort. These are challenges that SharePlex can and will help to resolve.
Moving Oracle databases to Postgres to leverage the benefits of an open source platform
A current trend is to move databases to platforms like Postgres to leverage the benefits of open source software. Many customers are showing interest in Postgres due to its similarities with Oracle and the benefits of an open source platform. However, customers are concerned about the ability of Postgres to handle active-active, mission-critical workloads. To address these concerns, Postgres has been added as a source in SharePlex 11, which offers enterprise-scale capabilities to Postgres. This provides the potential for customers to now replace their Oracle databases with Postgres.
Why is SharePlex still relevant after 25 years?
The primary reason is the trust that customers have in the product. Customers depend on SharePlex for its performance, resilience, and reliability. The product is also not trivial as it supports mission-critical applications, and the support team is excellent in helping customers solve problems. The team behind SharePlex is dedicated to their customers and takes priority in delivering enterprise-quality support. The development of the product is based on the feedback from customers about their evolving needs, such as support for Postgres as a source. The ability of SharePlex to meet customer demands has enabled its continued relevance in the software market. The product's stability and reliability and the team's dedication have contributed to the continued success of SharePlex in the market.
Want to hear more about the history and customer successes of SharePlex?
For more details on the customer successes and use cases, watch the on-demand recording of the SharePlex 25th anniversary webcast today!