There are times when it makes sense to merge patches together in order to minimize downtime or to combine into a single patch. Stat can help you merge patches. Stat then can track the patches as both the merged patch as well as the individual patches. Stat will call and utilize the AD Merge Oracle technology in order to merge the patches ensuring that they are being done to Oracle standards. I am going to discuss how it works and what you need to do to merge patches in Stat.
To start, open the patch console as illustrated below by either selecting Consoles/OraApps Patch Console or using the quick launch icon from the toolbar.

Select the patches you want to merge using the control key and the 'Merge' button will become enabled. Select the 'Merge' button to launch the 'Merge Patch Request' window.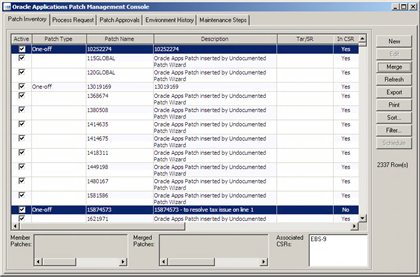 Within the 'Merge Patch Request' window enter a Patch number (free-form), select an Environment, the Environment Server, Working Directory should auto-populate, and a Description (free form.) You will see the patches that will be merged below and the name of the patch zip file with an 'm' at the front signifying it is a merged patch.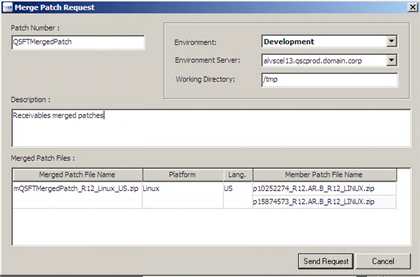 When ready select the 'Send Request' button to create the merged patch. You will see a popup showing if the request was successful. When complete hit 'OK'.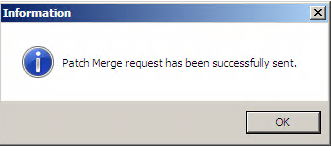 You will then see the new merged patch listed in the available 'Oracle Applications Patch Management Console'.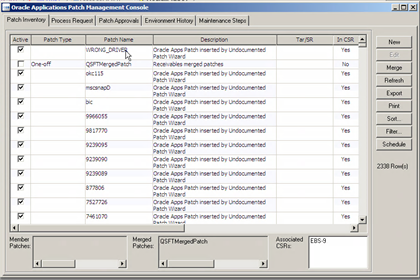 You may then associate the merged patch with a change service request (CSR) and schedule it for patch application. I will discuss patch application in a subsequent article.
Please feel free to ask me questions if you need more details.