I have been to quite a few SharePoint conferences in my life all of which have been in the US. I was overly excited to have the opportunity to attend this year's Australian SharePoint conference in Sydney. For starters I have never been to Australia and in this particular trip will be visiting both Melbourne and Sydney. So far Australia has been one of the coolest places I have traveled too. In addition to the amazing scenery, the people here are incredibly nice and accommodating. This trip has also allowed me to spend time with our incredible Australian Quest team.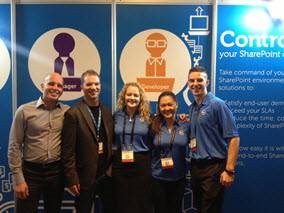 My first session "How the SharePoint App Store Positions Your Company for World Domination" was heavily attended and many of the attendees asked a lot of fantastic questions. There is a lot of buzz about both SharePoint 2013 and the App Store. I am excited about the opportunities both the App Store and new platform architecture provides users and developers alike. As I discussed in my session, in some cases a company's ability to win boils down to doing the everyday better than anyone else. By better I mean, faster, smarter, cheaper, or more efficiently. SharePoint and the App Store can support these efforts and help companies and organizations do the day to day better. As an example I briefly talked about how important social content is to the knowledge worker. If SharePoint does not natively allow you to pull in social content having easy access to an app that you can purchase and use that provides this functionality at a low cost is a very powerful concept. Needless to say, there are a lot of things to be excited about in this space. I am looking forward to another day of talking with SharePoint users from all over the world and discussing how SharePoint can be used to build a better business.
Lastly I want to mention that Australia has some of the best coffee and cappuccino I have ever had! What isn't there to like about this country!?! For more thoughts on SharePoint and other business/management related topics, follow me on Twitter @barkingd
Cheers!