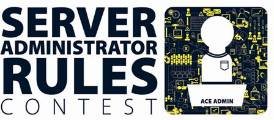 Attention SharePoint community!
Do you have a hard time understanding what is going on in your SharePoint server environment? Do you wish you could get a snapshot of your environment in one place? Do you wish you could run a rule against that environment to get the information you need instead of going to each server and looking up the information you need?
Now you can with the freeware Server Administrator for SharePoint tool. And here's your chance to show your expertise in the SharePoint community and win valuable prizes up to $500 in Amazon gift cards!
Enter the SharePoint Server Rules Contest, Quest Software's search for the best Server Administrator for SharePoint rule for monitoring the health of your SharePoint server environment. All you have to do is submit the most impressive rule you've created for Server Administrator using PowerShell or PowerGui.
With Server Administrator for SharePoint, you don't have to be a SharePoint expert to create a rule that detects performance, availability, security and upgrade readiness. Because Server Administrator's data collection does all of the hard work collecting information about your SharePoint infrastructure, your rule's logic can be written against the collected data which greatly simplifies rule writing.
So write your winning rules, submit it to the SharePoint Server Rules Contest and start to get immediate recognition for your hard work. We'll hold bi-weekly drawings of all entrants for a $50 Amazon Gift Card and of course we've got great prizes for the winners of the best judged rules. Winners will be chosen by a panel of SharePoint experts at the end of the contest.
Contest runs from August 10, 2011 to November 11, 2011.
Click here to learn more about the contest. Already familiar with the details? Then start writing, submit your entry and GOOD LUCK!!