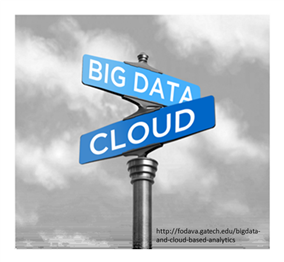 Most predictive analytics professionals would agree that the cloud has made its way into their IT organizations – certainly in the form of Software as a Service (SaaS) but likely beyond use of web-based software to cloud deployments in the data center. In fact, cloud computing is supporting, and in many cases driving, today's technology trends. The cloud, then, provides a way for IT to deliver increased value and support the c-suite's priorities as outlined in my previous post on Analytics in the Cloud
As funding sources shift from IT to line-of-business executives, analytics will be increasingly tied to business strategies to increase a company's competitive advantage. In the end, business will be focusing more and more on speed to value.
Cloud analytics are an increasingly important component of successful business intelligence and analytic strategies. But more analytics could mean more complexity, if not managed properly. And while adding cloud analytics to the top of the "to-do" list might seem daunting, there are actually simple-to-implement techniques for taking full advantage of cloud analytics at your organization. It all depends on having the right tools.
We've lined up industry experts to help you gain a deeper understanding of analytics in your cloud and hybrid data ecosystems. Jacob Spoelstra, Director of Data Science, Azure Machine Learning Platform at Microsoft and Christopher Ray, M.D, Chief Technology Officer at AnesthesiaOS are leading an educational webcast to show you how to harness cloud analytics to gain a significant competitive edge, with less effort than you might imagine.
Is the cloud a part of your go-forward business intelligence and analytics strategy? Register for a complimentary webcast featuring experts from Microsoft and Dell to learn how to get a handle on your hybrid data ecosystem.
The details:
On-Demand Webcast: "Cloud Analytics – Driving Forces Shaping the Future of Analytic Strategies"
Featuring: Shawn Rogers and David Sweenor of Quest, Jacob Spoelstra from Microsoft and Christopher Ray, M.D at AnesthesiaOS
Date and time: May 12, 2015 at 10:00 AM PST
Want more? Following the webcast you'll be invited to demo a free trail of Quest's Statistica, one of the most intuitive, easiest-to-use, and comprehensive predictive analytics software platforms available in the market.
Sign up for the webcast now to learn how to take the complexity out of using cloud analytics for a competitive advantage.