What if you had a mom for your virtual desktop infrastructure (VDI)? Somebody or something that could monitor the performance of your virtual desktops and applications to keep them focused and on the right track? It's a full-time job, but it's the kind of full-time job at which a mom (or "mum," if you prefer) excels.
We didn't exactly have moms in mind when we built Foglight for Citrix XenDesktop and XenApp, but it does perform many of the same important functions:
Works at all levels – Moms keep an eye on what you're up to. When you walk into the kitchen for breakfast, they make sure you look right. As you walk out the door, they make sure you take a jacket so you stay healthy. The minute you get home from school, they ask how your day went. Moms ask you about your day to keep tabs on all aspects of your life. And you don't make her job simple.
Just like Mom, Dell Foglight is made for monitoring complex, heterogeneous environments like your Citrix XenDesktop and XenApp deployment. It keeps track of what's happening on all levels: in the application, through the virtual infrastructure, to the physical disk.
Catalogs and organizes information about you – Moms seem to always know things, such as whether you've taken your vitamins, if you have enough clean socks, when your next doctor's appointment is scheduled – and, most important, they can answer your questions effortlessly.
Foglight can do the same thing for your virtualization environment via dashboards like the one below: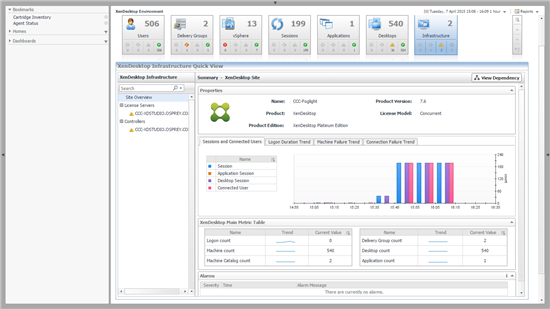 The top of the dashboard summarizes the answers to your questions about the health of your XenDesktop environment, including users, delivery groups, sessions, applications and desktops. Below, the dashboard summarizes the health of your infrastructure.
And if your socks are virtual, it will even tell you where to find them right now.
Gets to the bottom of things – Moms – especially helicopter moms – have a way of getting to the heart of the matter: "I found a note from your teacher as I was going through your laundry." "I'm sure that's not tobacco I smell, is it?" "Your roommate mentioned that you were gone a few nights last week." They're adept at turning a little bit of data into a lot of information.
Your Citrix XenDesktop and XenApp deployment is constantly generating little bits of data, and Foglight uses them to paint a full picture of information. With its virtual machine explorer, you can drill through the layers under any virtual desktop for an end-to-end topology of the local desktop: the virtual machine, the ESX server and the VMware datastore.
Foglight can give you direct insight into your users' experience by monitoring and managing, and by collecting metrics from NetScaler. It gives you a view of details for individual sessions, as shown here in the session overview: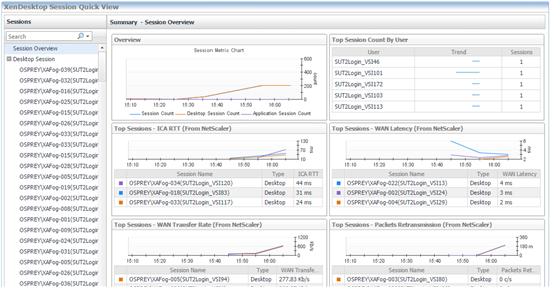 Dell Foglight for Citrix XenDesktop and XenApp – Lab review
Since you probably can't hire your mom to monitor the performance of your VDI, Foglight for Citrix XenDesktop and XenApp is the next-best thing.
But you don't have to take my word for it. The Enterprise Strategy Group (ESG) has conducted a lab review on Foglight in a heterogeneous test environment. ESG demonstrated Foglight's ability to monitor and manage a Citrix virtualization and application environment, then wrote a lab review on what they found. They also produced a five-minute video summarizing their findings.
Read the report and use it to learn more about Foglight's capabilities.
Your mom would want you to. I know mine would.