If you follow this blog at all you know that we post a lot of how to articles and videos like these: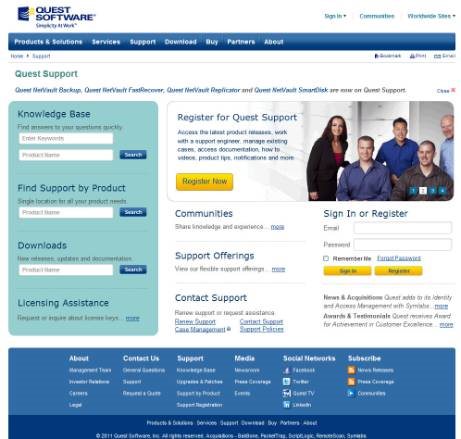 Video: Report Access for Business Content Owners
But did you also know that there are lots of how-to articles, product information and documentation, new release downloads and more on Quest's SupportLink? Check out this link to view the documentation available for Site Administrator for SharePoint!
SupportLink is Quest's online support center where you can search the knowledge base, search for products, downloads and receive licensing assistance. Here is what you'll find on SupportLink:
Login to your personalized SupportLink page
Open support requests
View the status of current requests
View documentation, how-to videos, product tips and notification alerts (which can also be emailed to you)
Search and sort the knowledge base by:
Product
Version
Keyword
Category
Client OS
Server OS
Database
Application
Platform
Quest Support Awards
ACE Support! Quest is a two time consecutive award winner for Market Tools CustomerSat Achievement in Customer Excellence. The award demonstrates Quest's long-standing commitment to providing unmatched customer service to its global customer base.
The MarketTools ACE Award certifies, acknowledges, and celebrates outstanding achievement in customer satisfaction, employee satisfaction, and/or partner satisfaction. Receiving a MarketTools ACE Award is a distinct honor that demonstrates the recipient's rigorous application of enterprise feedback processes and its outstanding performance as measured by those processes. Only a small percentage of MarketTools' clients, already a select group highly committed to customer, employee and partner satisfaction, qualify for the award. Quest earned the MarketTools ACE Award based on positive feedback from customers on their support experience.
Check out this link to view the documentation available for Site Administrator for SharePoint